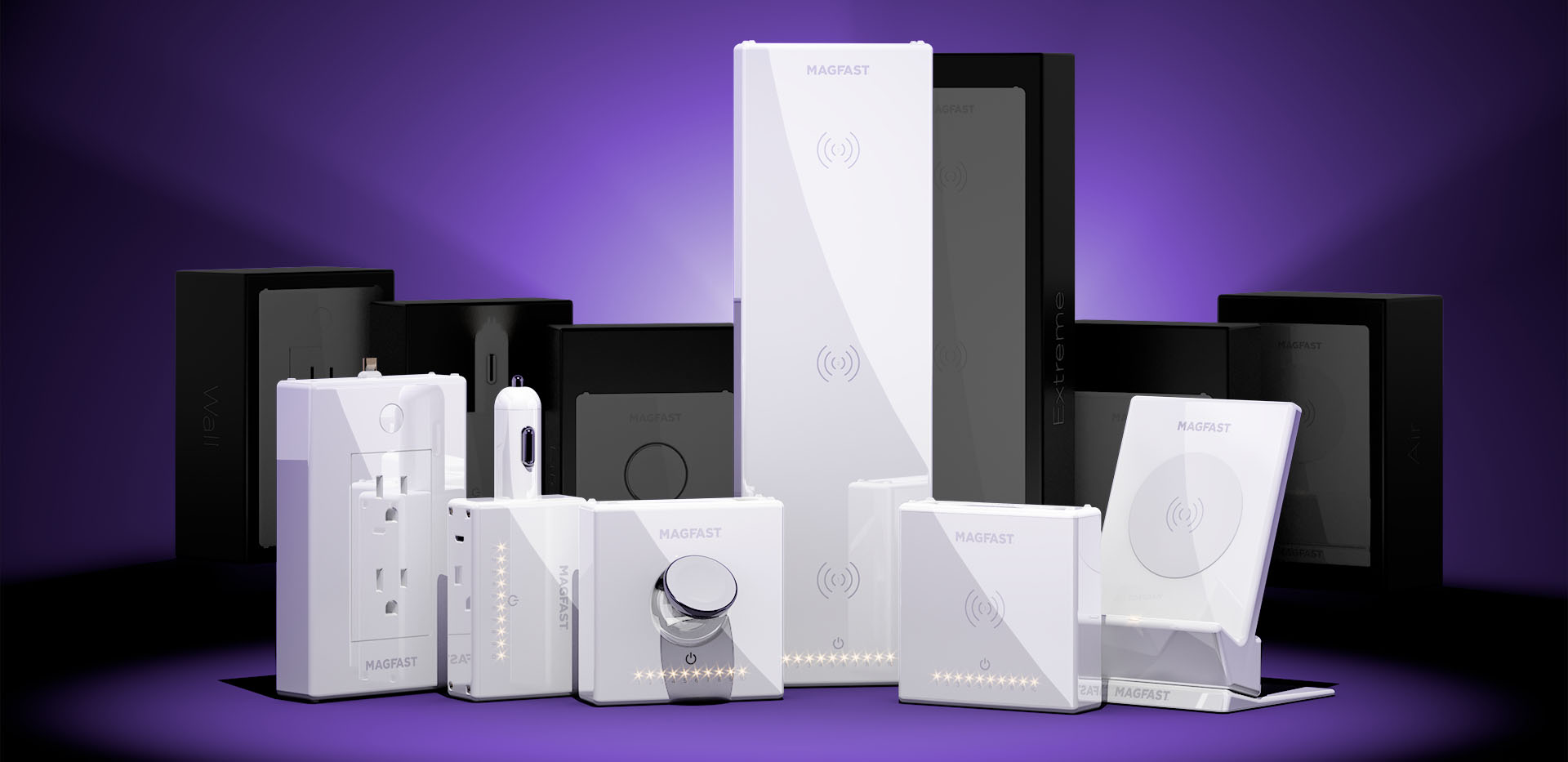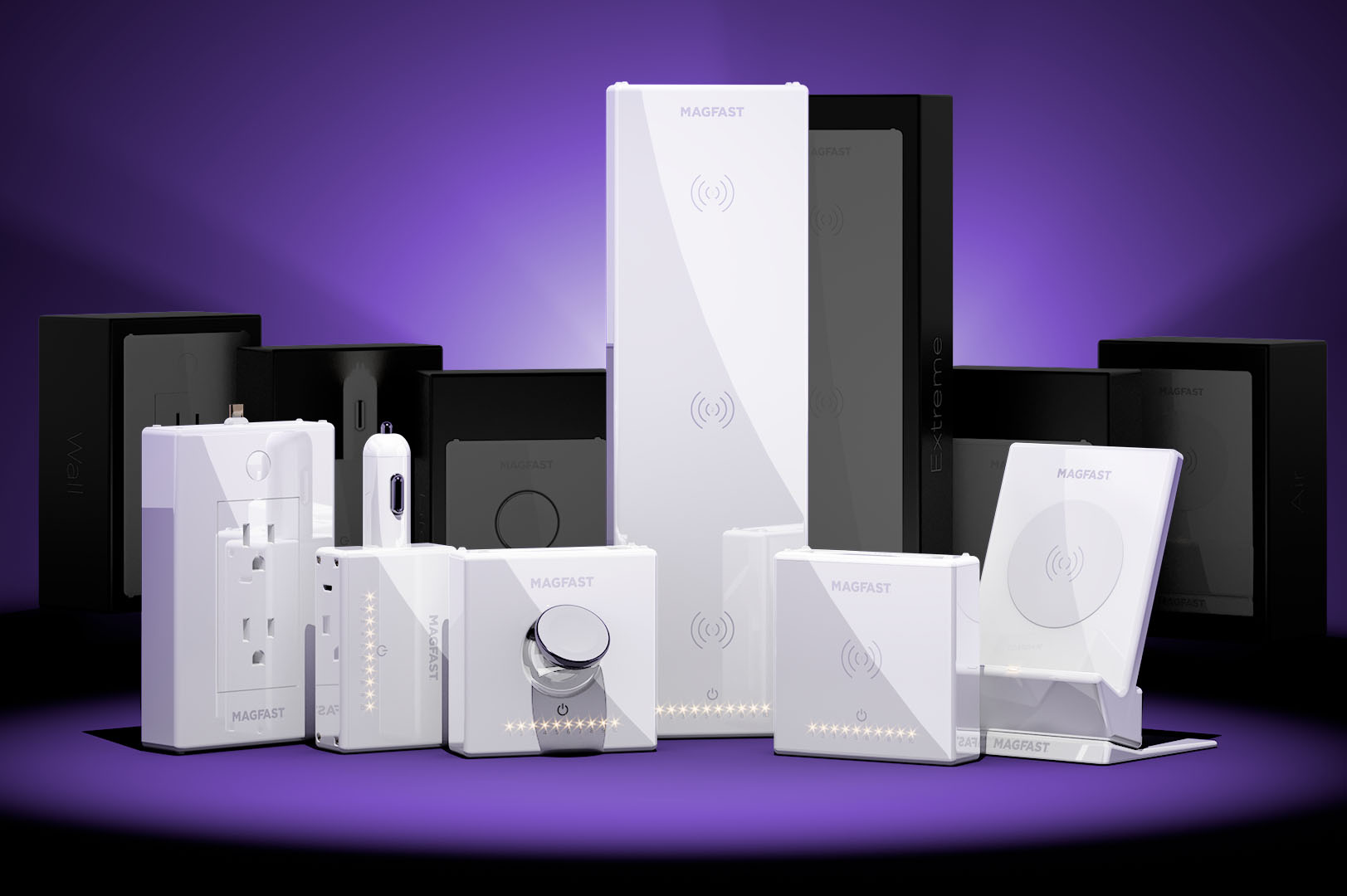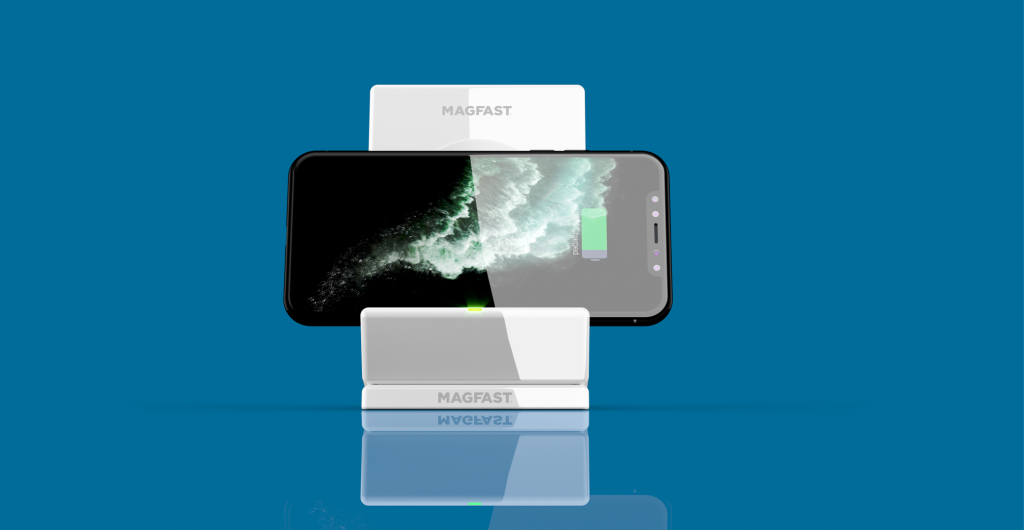 Production Tooling Underway! Q4 2020-Q1 2021
Air, Life, Extreme: All three products released for tooling. Although challenges with the new Apple "Magsafe" wireless charging for iPhone (see below) delayed the formal start of production, all three products have now been released for tooling. This final delay was very unfortunate, but crucial: we could not manufacture tens of thousands of units that would fail to charge Apple's new iPhones.
The good news is that the entire MAGFAST range will now be fully compatible with Apple's Magsafe. Tooling is the final stage before shipping and the schedule is now a highly predictable, mostly automated process.
Our manufacturer has committed to us that production units will arrive at our fulfillment center in time to make first shipments to first customers with the updated Qi design (and *all* the improvements we have added since we first announced the MAGFAST family) by March 30, 2021. We will work to hold them to this commitment.
All products: Apple iPhone 12 brings charger problems. In late September, our team started hearing rumors about changes to the wireless charging technology in the soon-to-be-released iPhone 12. There were concerns, on review of the new Apple "Magsafe" wireless specs that it might not support industry-standard Qi chargers. This was a real risk: Apple is not always concerned about backwards compatibility. We were in active communication with our manufacturers and took the painful decision to slow release to tooling until we had reviewed the changes introduced by Apple's Magsafe.
Apple announced the iPhone 12 on October 13, indicating that it had introduced magnets to the area of the Qi coils. Our team recognized the potential for wireless charging issues: Qi chargers use electromagnetic fields which can be affected by magnets.
We immediately put a hold on tooling to minimize the risk that we were about to produce many tens of thousands of chargers that might not work with iPhones in future – a potential disaster for MAGFAST and our customers.
The first iPhone 12s were shipped on October 23. We immediately purchased one for testing: as with many of our competitors' products, Apple's magnets caused problems with MAGFAST's chargers. Apple support would not officially acknowledge there was an issue, although the support representative admitted that his new iPhone 12 did not work with the Qi charger in his car.
To demonstrate the scope of the problem, by 6:40 pm on the second day of shipping for the iPhone 12, there were already 1,893 official reports of customers unable to charge their iPhone 12s using existing Qi chargers.
Our team scrambled to solve the technical issues. Once we were nearing a solution, Seymour/Shawn were able to make an announcement during a live video episode of the Upgrade to release Extreme to tooling.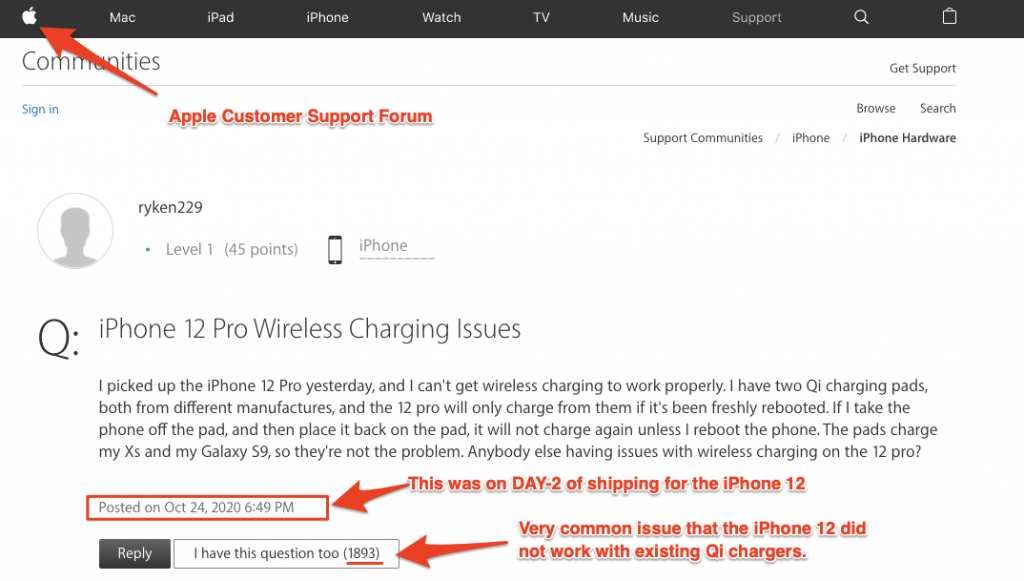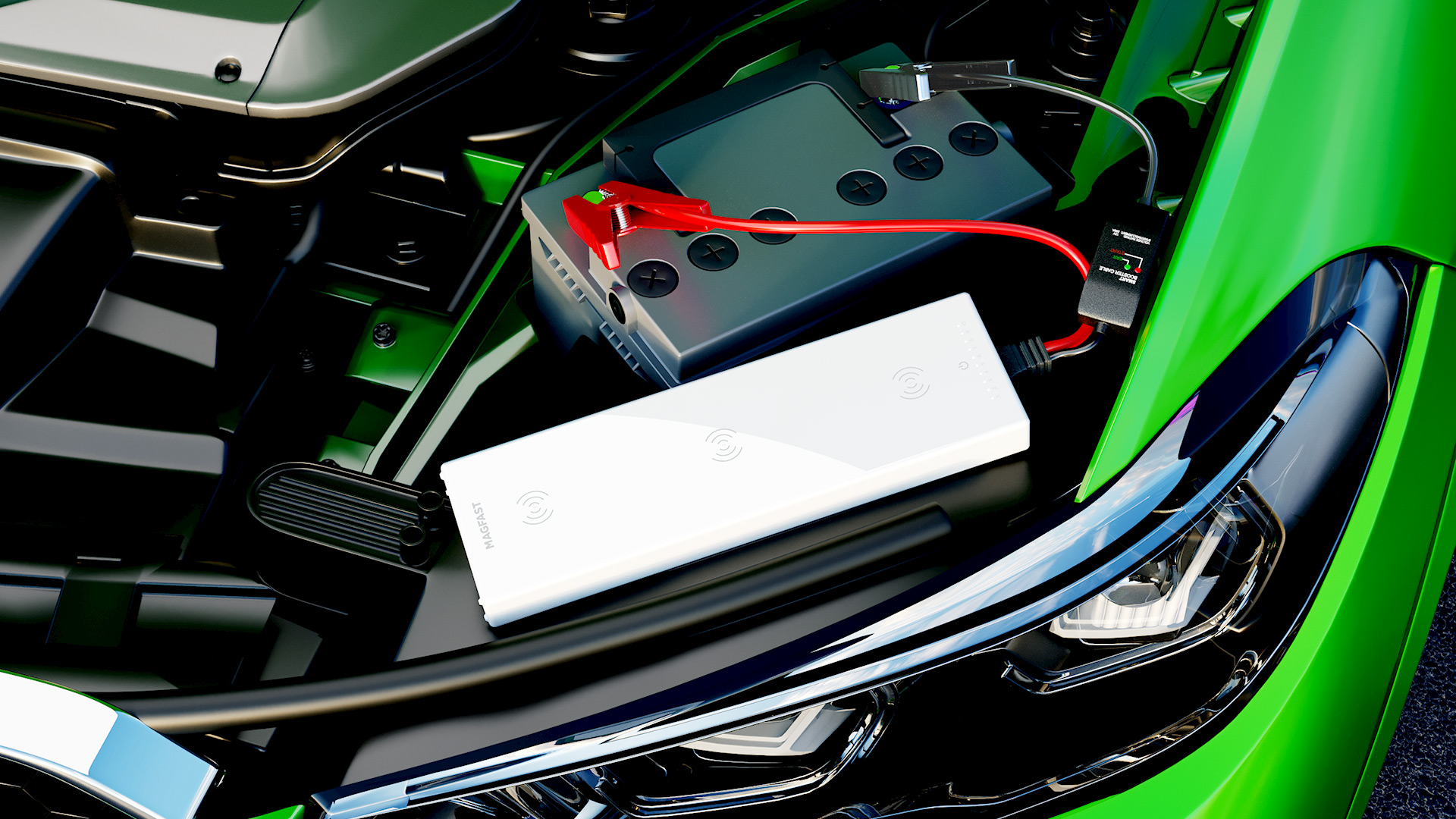 Final Pre-Production Adjustments: Q3-Q4 2020
Extreme: First pre-production model in testing. A new pre-production model has been shipped and just arrived this week and testing has commenced.
Extreme: Review of extra safety measures. Our team reviewed the safety measures for all Extreme power banks. In addition to the 500A lithium-polymer battery (note for reliability and tested over an extended period) the 12V output has a protective cap as standard and uniquely, in our experience — silicon insulating tips on both metal poles to minimize the chances of a short circuit from a foreign metal object.
Air: Second pre-production model tested. This model resolved almost all issues and Air is very close to production readiness. However, we identified three issues which precluded final sign off for tooling: (1) Qi latency: a delay before Qi charging begins, (2) Qi coil resonance: a slight 'buzzing' sound when charging. An updated pre-production model is being prepared.
Life: Second pre-production model tested. The second unit arrived and is 95% correct: excellent mechanical results, all ports charging as specified, LEDelicious working almost perfectly. We found minor problems with this model: (1) LEDelicious wired to indicate charging on incorrect port numbers (2) coil resonance. An updated pre-production model is being prepared.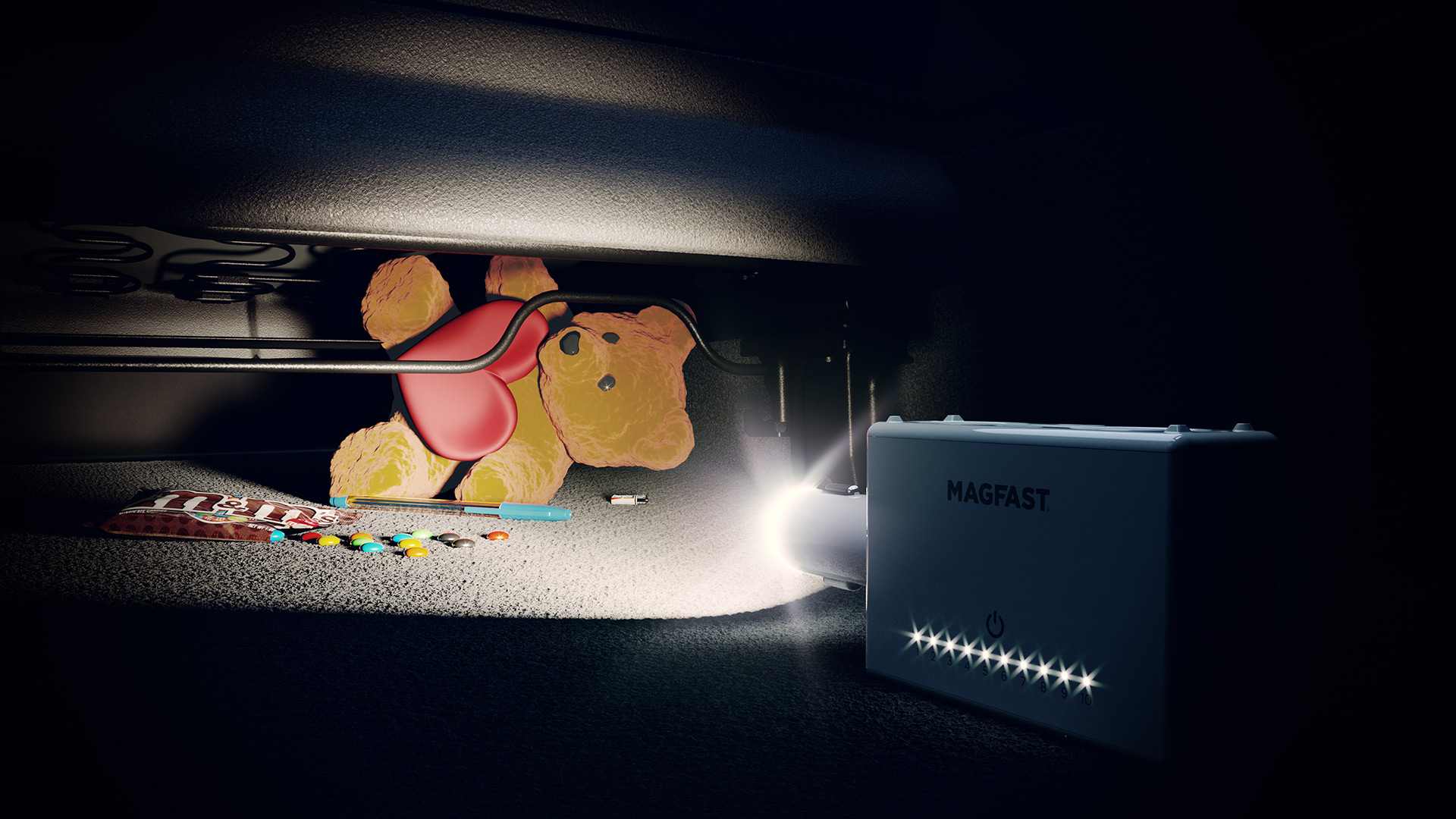 Final Engineering: Q2 2020
Road: Stabilizers. We tested the torque exacted on a vertically-mounted 12V car outlet and finalized the stabilizer design required to ensure that Road fits firmly and snugly.
Wall: Package expansion. It turned out that, even using GaN, there were severe space constraints for Wall. Much of the interior is taken up by the tip mechanism and wall prongs leaving precious little for charging circuitry. The system is based on a standard width across all products, so that could not be increased — hence we made the decision to expand the depth, front to back, which far more than doubles the total space available for circuit boards in current and future models. As an added benefit, future products will also be able to use a variant of this form factor.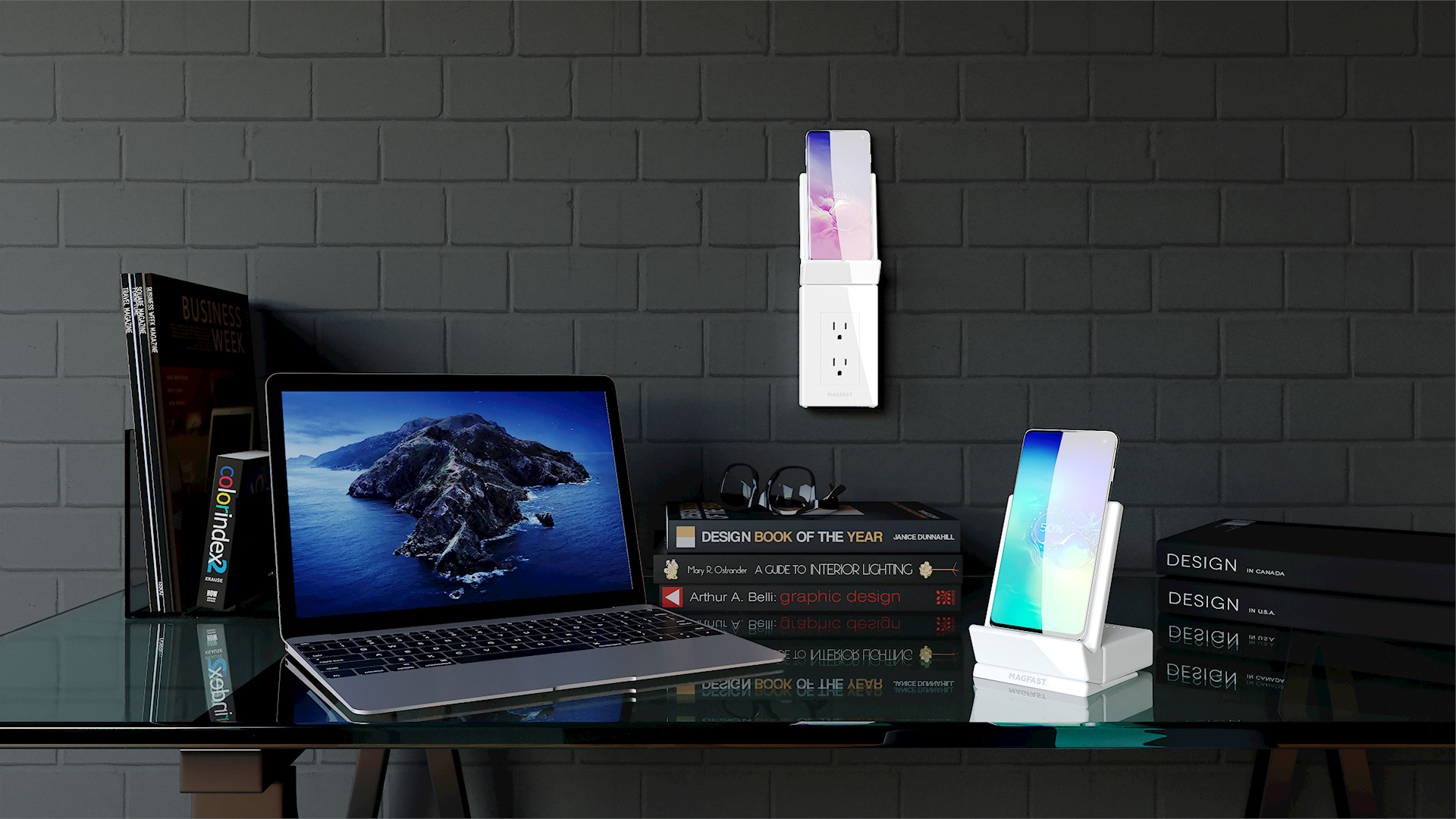 Final Engineering: Q1 2020
Extreme: Extensive work on prioritizing power distribution among devices that exceed the total power output capacity of the device. Because Extreme has so many output ports, it's possible to draw more current than this unit is capable of delivering. We made the decision to share power pro rata among all ports: every device being charged continues to charge at a proportionately slower rate.
Extreme: Final engineering on multiple power outputs — resolved technical challenges relating to 3xQi + USB outputs rated up to 18W combined in a single unit with jump-start capability. Extreme is a truly first-of-a kind product with a unique combination of features in a single package. We made a series of decisions that resolved the challenge of combining high-energy-density required for maximum phone charges with lower-density high-current needed for jump-start 'burst' output.
Extreme: Selected lithium-polymer battery chemistry for performance and safety. We made the decision to specify a higher-cost battery based on the new lithium-polymer technology which offers a higher performance/safety combination than lithium ion. Our research indicates that competitive batteries deliver a bigger charge (unnecessarily) and burn out after a relatively small number of jump-starts. Lower-quality battery chemistry can also leak and swell, causing the outer casing to crack. We selected a 500A battery — lower current than many alternatives, but powerful enough to jump-start numerous SUVs and trucks on a single charge, much safer, more reliable and offering significantly longer battery life.
All products: Feature alignment between all family products. User experience inconsistencies between different products in the range were identified and aligned. All products in the range now use the same circuitry decisions to ensure consistent LED performance, charging prioritization among ports, etc.
Extreme: Tested 18,500 mAh lithium-polymer battery with multiple vehicles. The first lithium-polymer batteries selected for MAGFAST arrived in the U.S. and we tested their 12V jump-start abilities with a range of different vehicles, up to and including a 5.4-liter Ford F150. The first series of jump-start tests were on Jan 23, 2020 and resulted in a failed dongle that had to be diagnosed.
The second series of tests were on Feb 7. We tested with several different safety-protection dongles: the lower cost dongle blew up on the first attempt while cranking a large truck engine. The premium dongle worked flawlessly and a fully charged Extreme successfully cranked the truck engine 6 times before being depleted to a point where the dongle shut off the current.
Road: Final engineering changes to maximize utility while plugged into 12V car port. We worked extensively on Road to maximize its utility for use in-car. Total USB outputs were increased to 3 x USB-C (18W) plus 3 x USB-A (shared XW) to allow up to six vehicle occupants to charge simultaneously at maximum power. We finalized engineering of the circuit board to bypass Road's battery while the device is plugged into a 12V car output: full current is now delivered direct to USB outputs. Road auto-senses when it's no longer plugged in and switches to battery power.
Road: Flashlight engineering. A series of decisions were required for completion of the flashlight assembly, including the stabilizers (to ensure that Road stays plugged in during travel) and the light reflector. After testing several different versions, we determined that the beam cast will be broad (floodlight rather than spotlight).
Time: Redesigned to allow larger battery. Our engineering team had made some choices to allow MFi (Apple's Made-for-iPhone/iPad certification program) compliance that significantly reduced the battery size. We reconsidered the constraints and managed to expand Time's battery capacity substantially.
Time: MFi compliance for charging disc. Apple's MFi certification is fastidious over the physical positioning of the charging disc for Apple Watch. Great care is required to ensure that a watch is charged successfully, doesn't fall off the disc, or otherwise fail to charge. We completed this work successfully and submitted to Apple for final MFi certification.
All products: MAGFAST magnets specified. We tested numerous magnet options and finally found the right units with the correct dimensions and pull force. Our original intention was to position the magnets underneath the plastic case. However, this option proved unworkable because the added distance between magnets diminishes the pull force exponentially. The final resolution was surface-mounted N52 magnets with a durable hardened white-epoxy coating.
Wall: SP2X upgraded to 30W GaN. The latest Gallium Nitride (GaN) semiconductor technology allows much smaller charging components that operate at lower temperatures. We made the decision to add cool, compact GaN to Wall with the intention of expanding possibilities, starting with an increase in USB-C power output to 30W for Wall SP2X.

Life: Functioning sample received with MAGFAST connector functioning — power in/out fully operational.
Designing and engineering different products simultaneously, each best-in-class, has been more complicated than we expected. Completion of the engineering process was also hit in the first half of 2020 by COVID-19 then in the second half of the year by Apple's release of "Magsafe" for the iPhone 12, adding magnets to the Qi wireless standard that interfere with many Qi charger. We have addressed these challenges and pleased to report excellent recent progress in finalizing the entire product range.
Taking on the design of an entire family of products all at the same time has been a monumental task for such a small company. But there have been some benefits of this "design and engineer everything together" approach:
We knew from the outset this was the only way we knew we could deliver a seamless, integrated experience. Because MAGFAST is a family of devices, we have designed consistent, intuitive behavior across all products.

Some products have presented unique challenges – but many features are common across the range. We have been able to solve many engineering challenges once, then apply the solution across the entire family.
MAGFAST products are designed and engineered to exceptionally high standards, and we are planning a manufacturing process which will be driven by the same quality expectations. Our manufacturing partner has a full-scale testing facility which allows us to 'burn in' (test) all units to ensure an infinitesimally small failure rate: every MAGFAST device will be put through a comprehensive testing cycle before packing and shipping.
Click on the More… links below for a detailed, up-to-date view of status and timeline for each product in the family.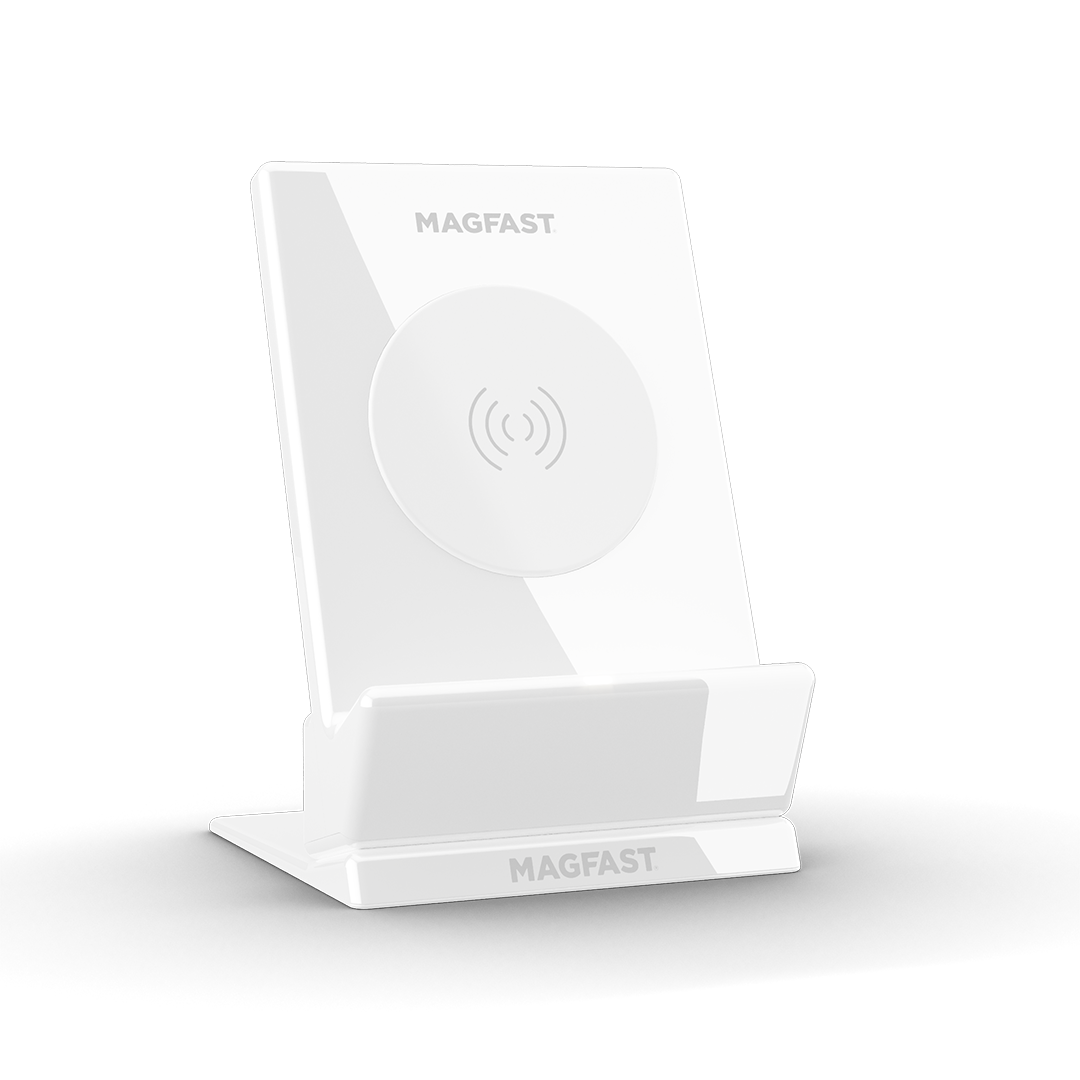 ► Pre-production sample approved
► First shipments to earliest backers scheduled
Air is designed to revolutionize your experience of wireless charging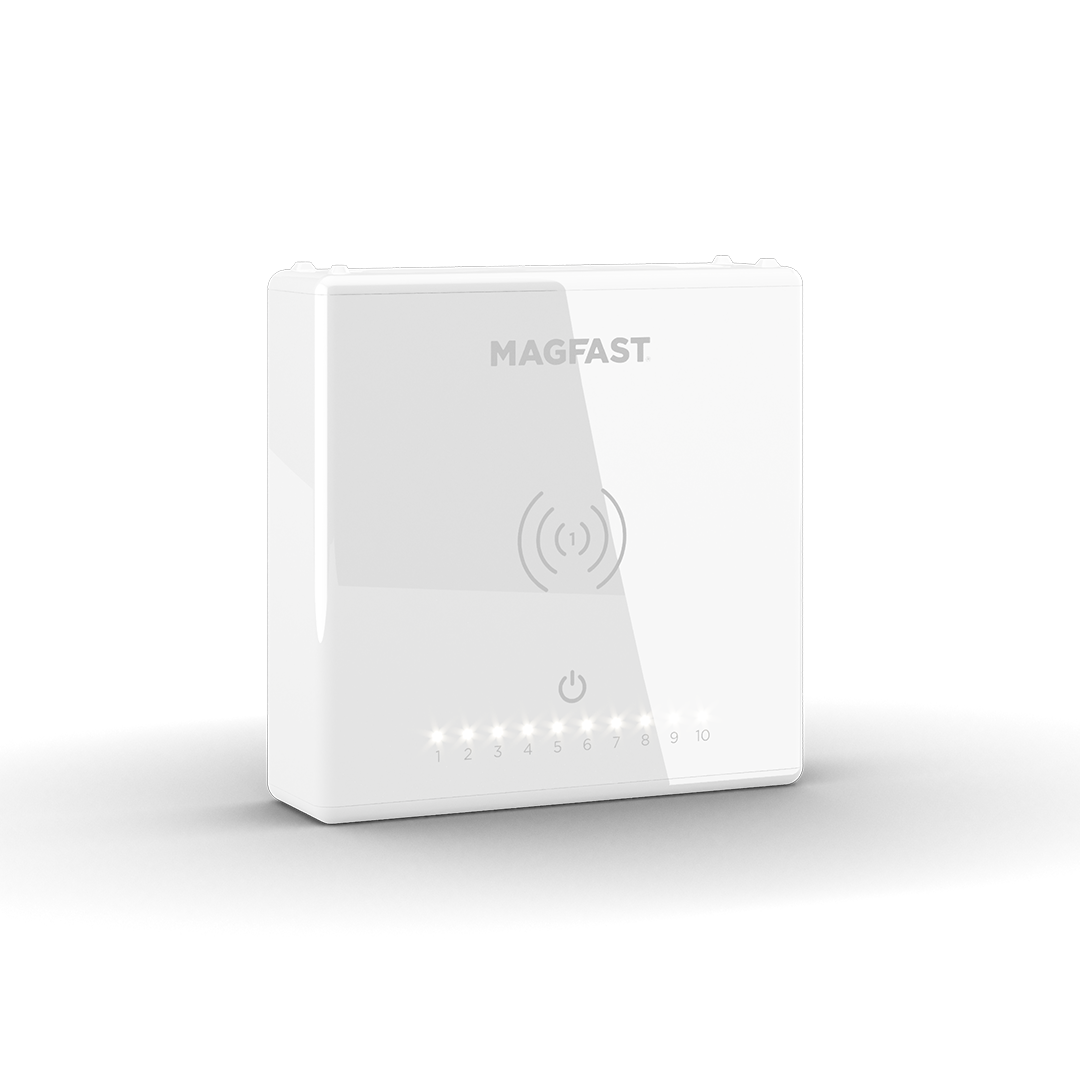 ► Pre-production sample approved
► First shipments to earliest backers scheduled
Life packs an unprecedented range of features into a small-but-mighty power bank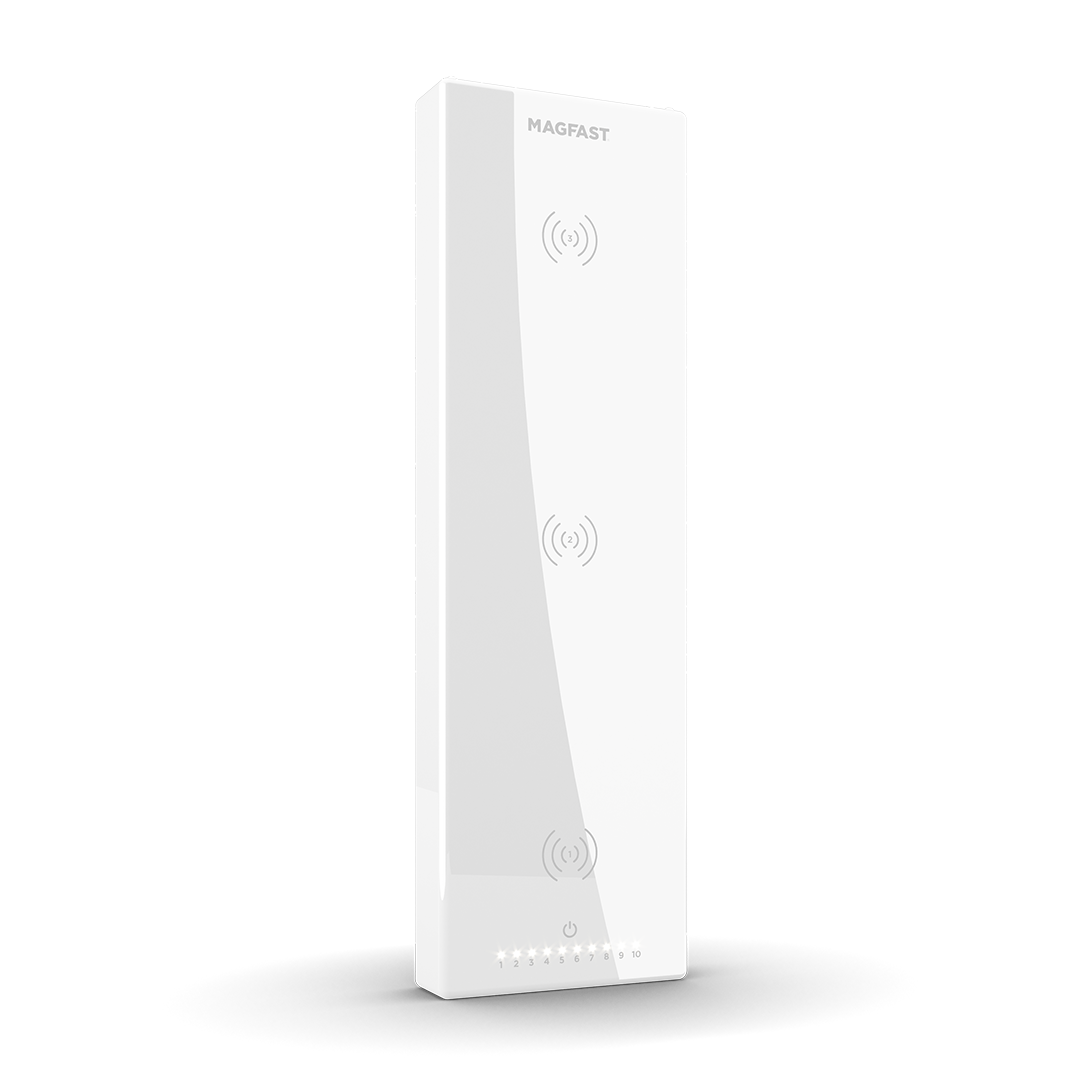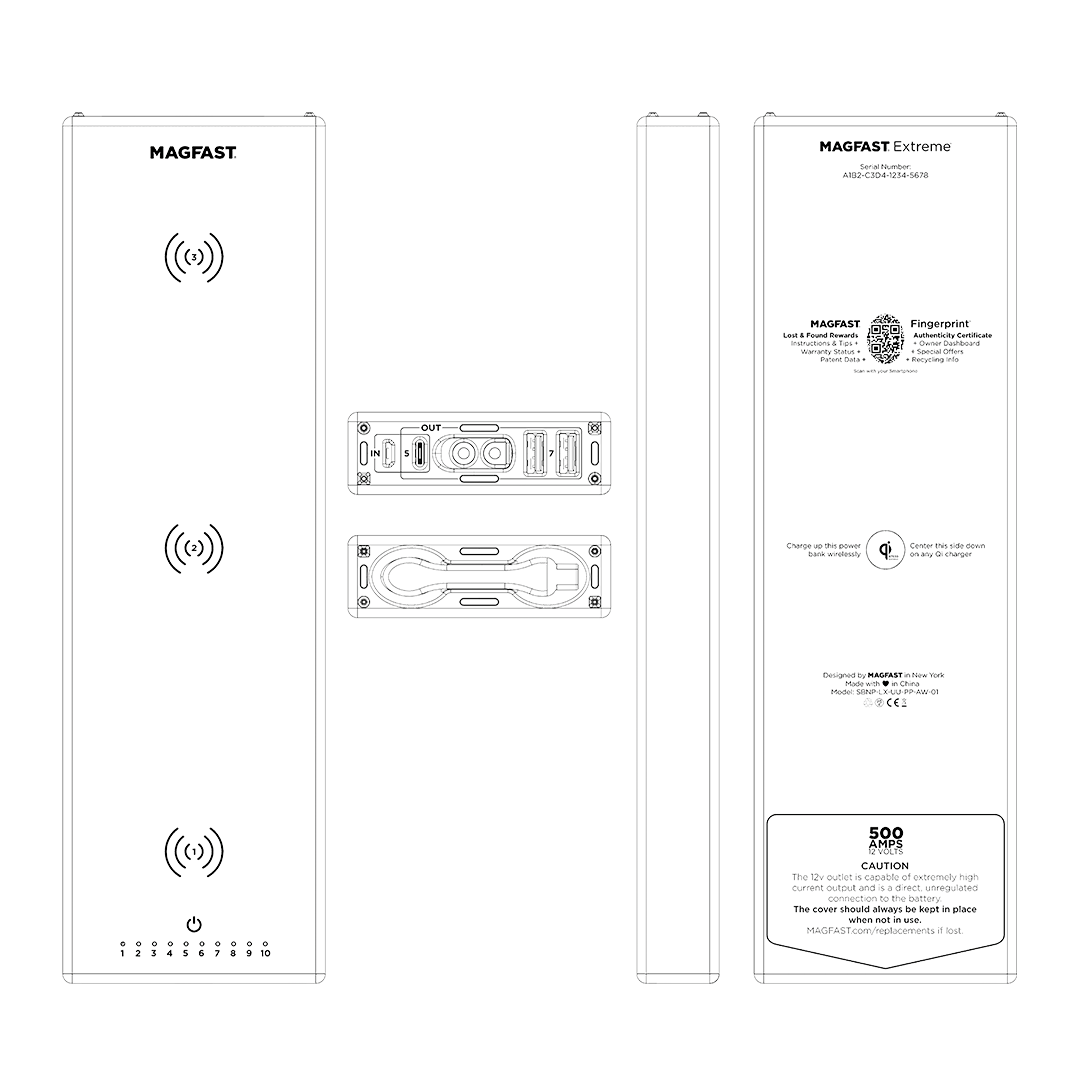 ► Pre-production sample approved
► First shipments to earliest backers scheduled
Extreme is the world's most capable AND flexible advanced power bank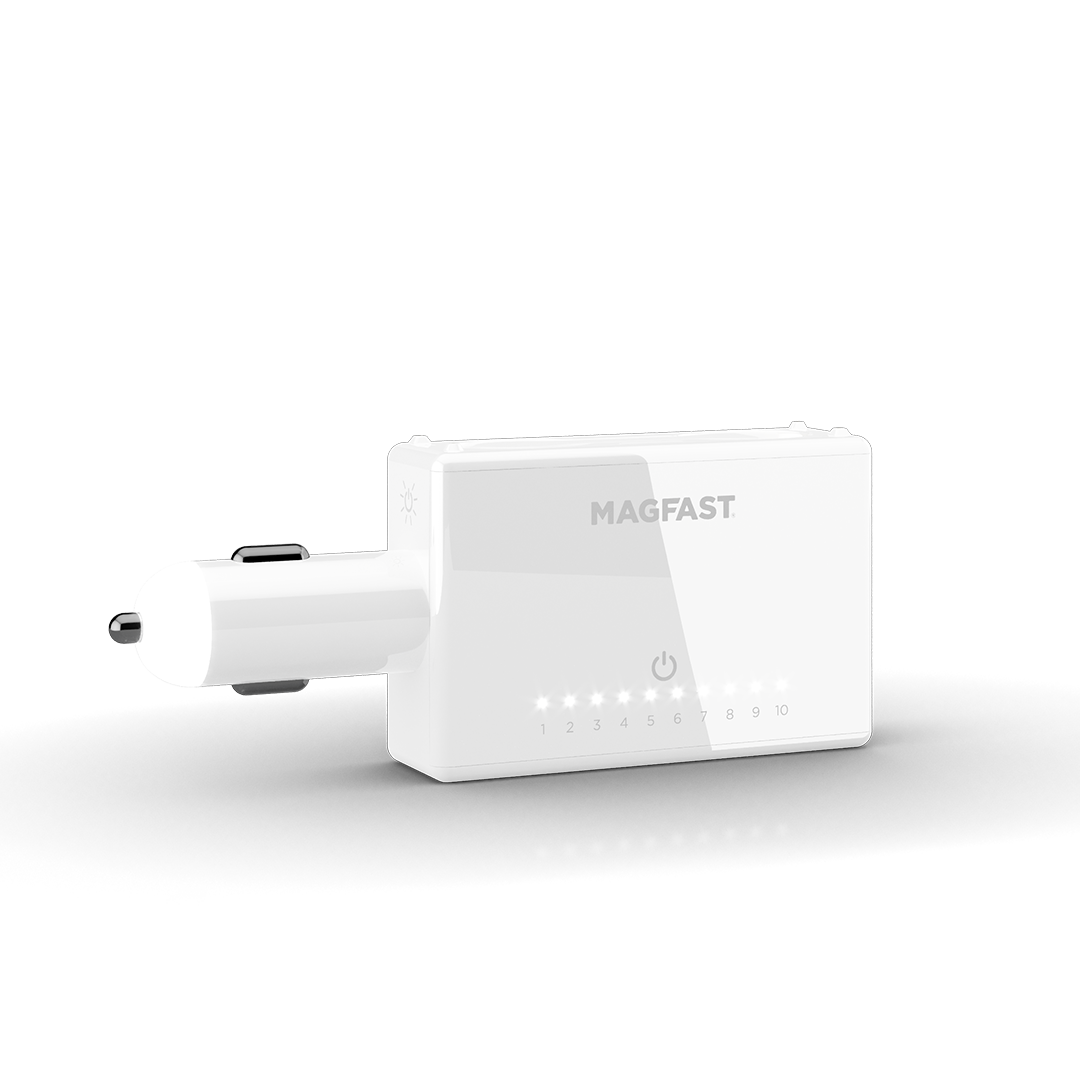 ► Pre-production
► First shipments TBA
Road is with you in your car or your boat - anywhere with 12V power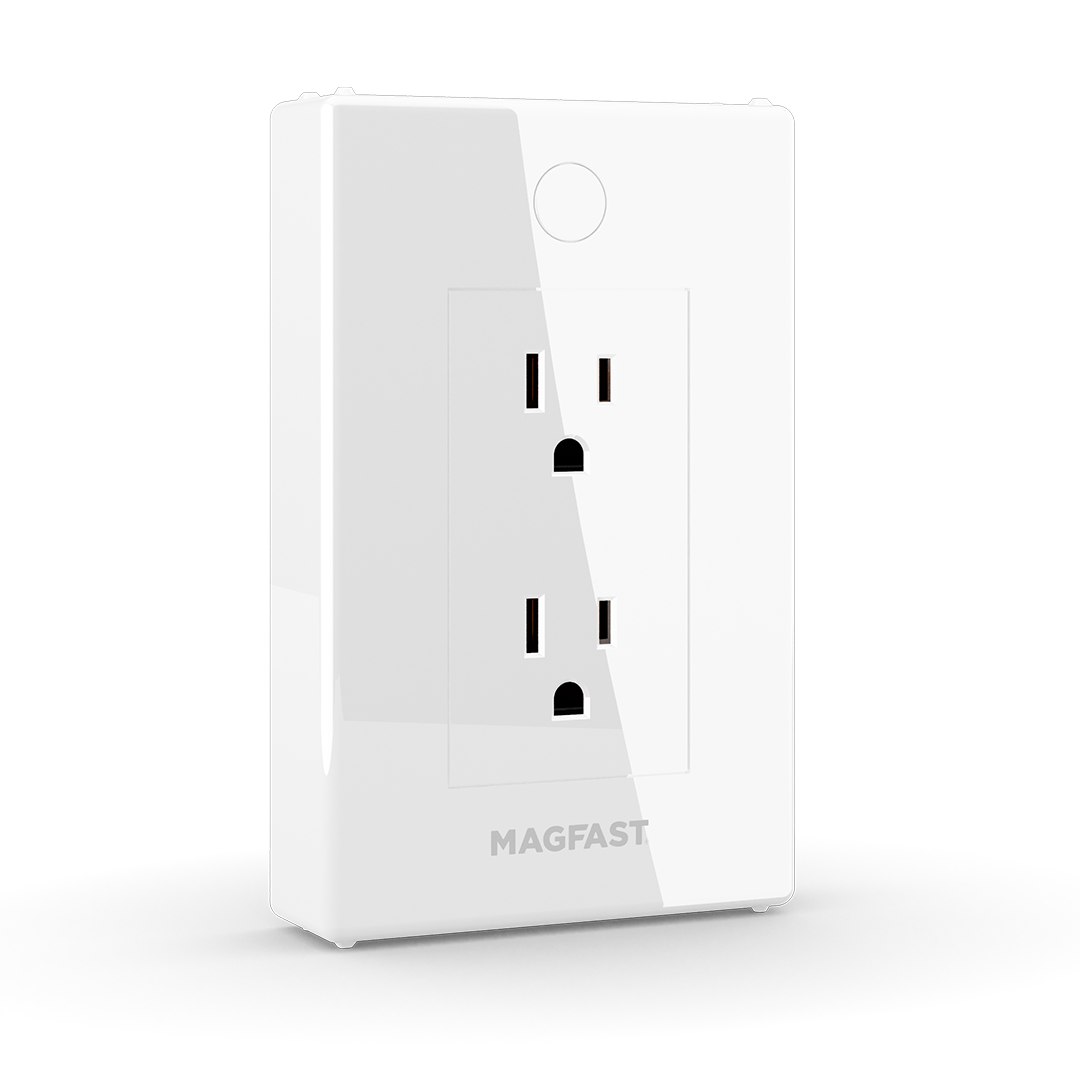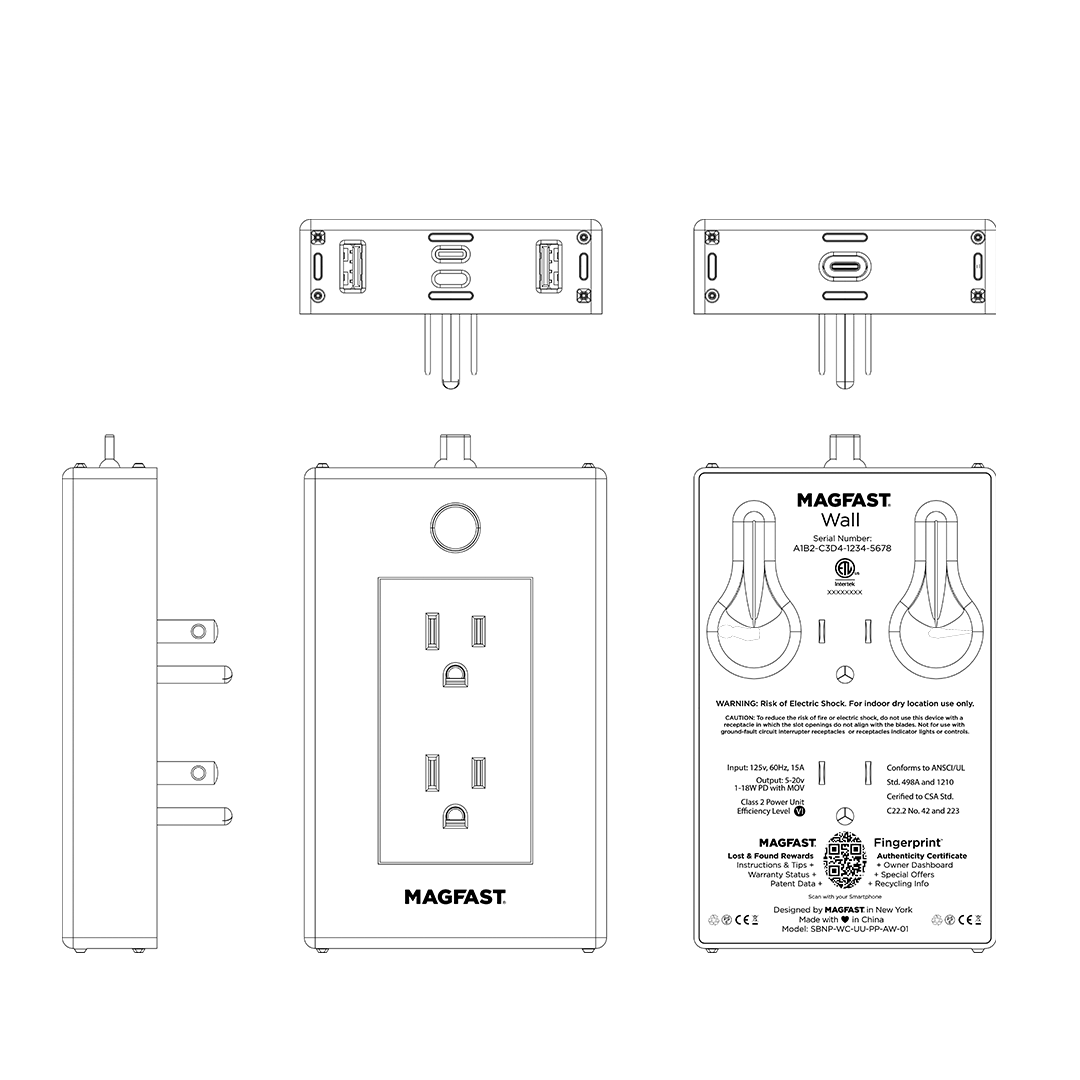 ► Pre-production
► First shipments TBA
Wall is the 'invisible base station' that charges all other MAGFAST devices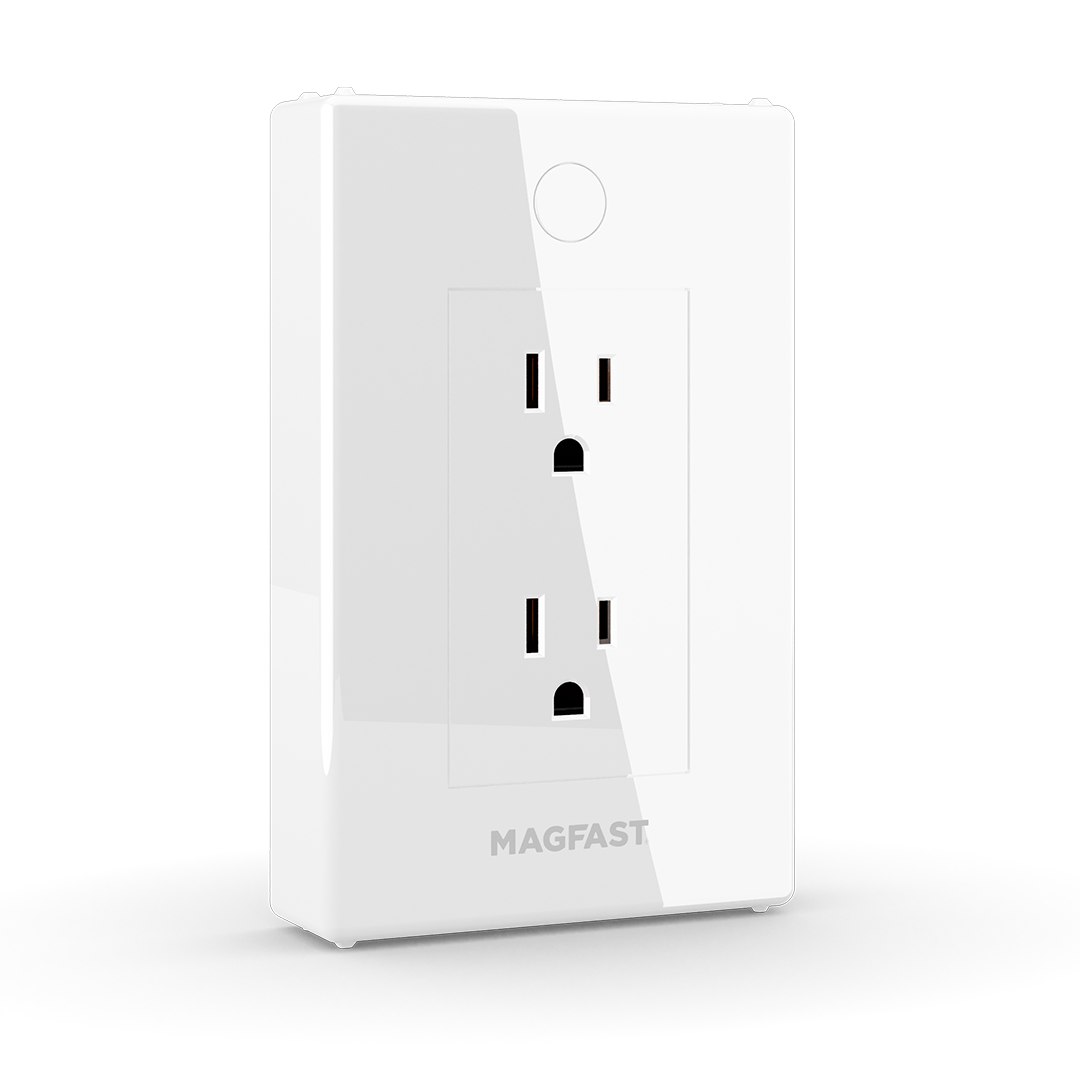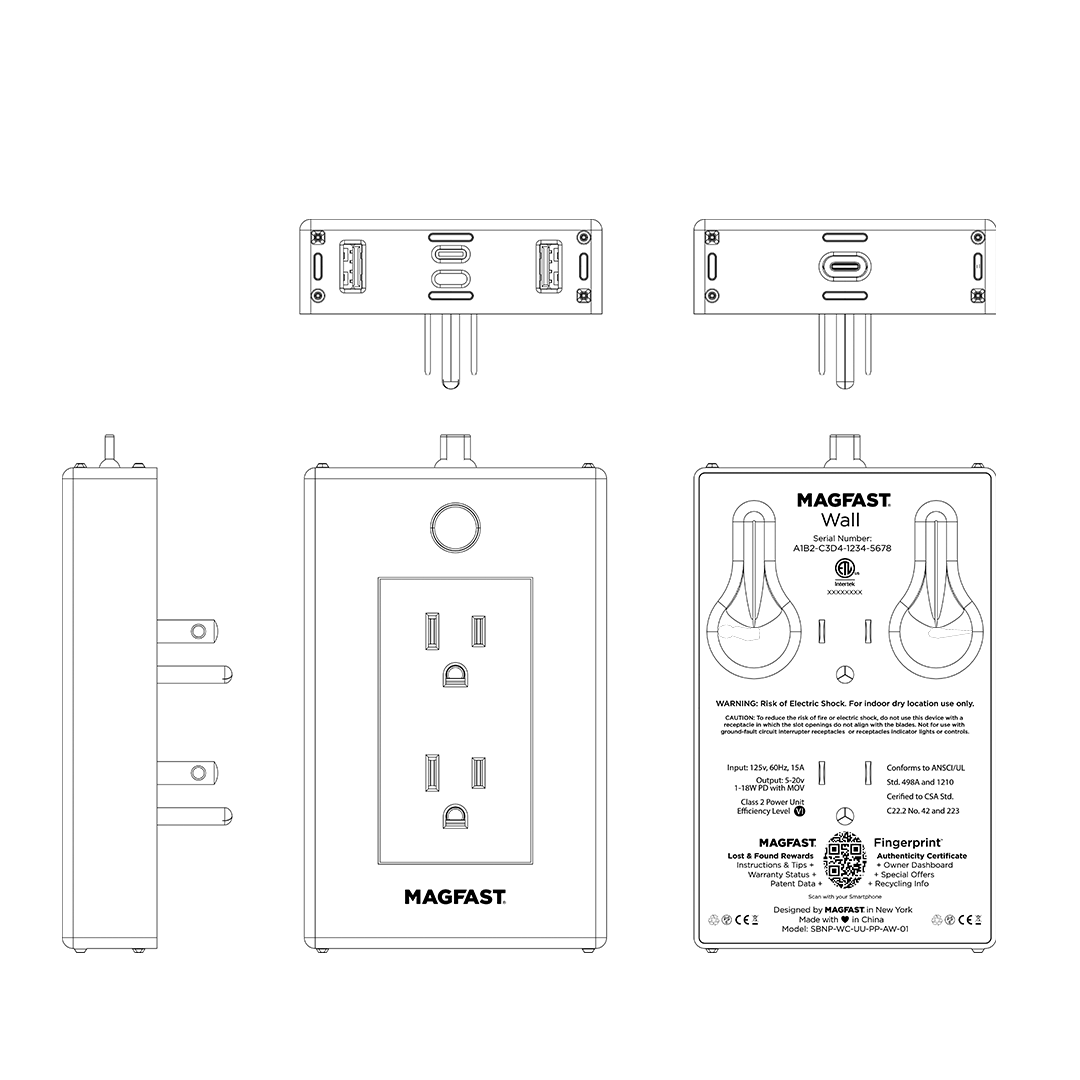 ► Pre-production
► First shipments TBA
Wall SP is the MAGFAST family's 'invisible base station', including surge protection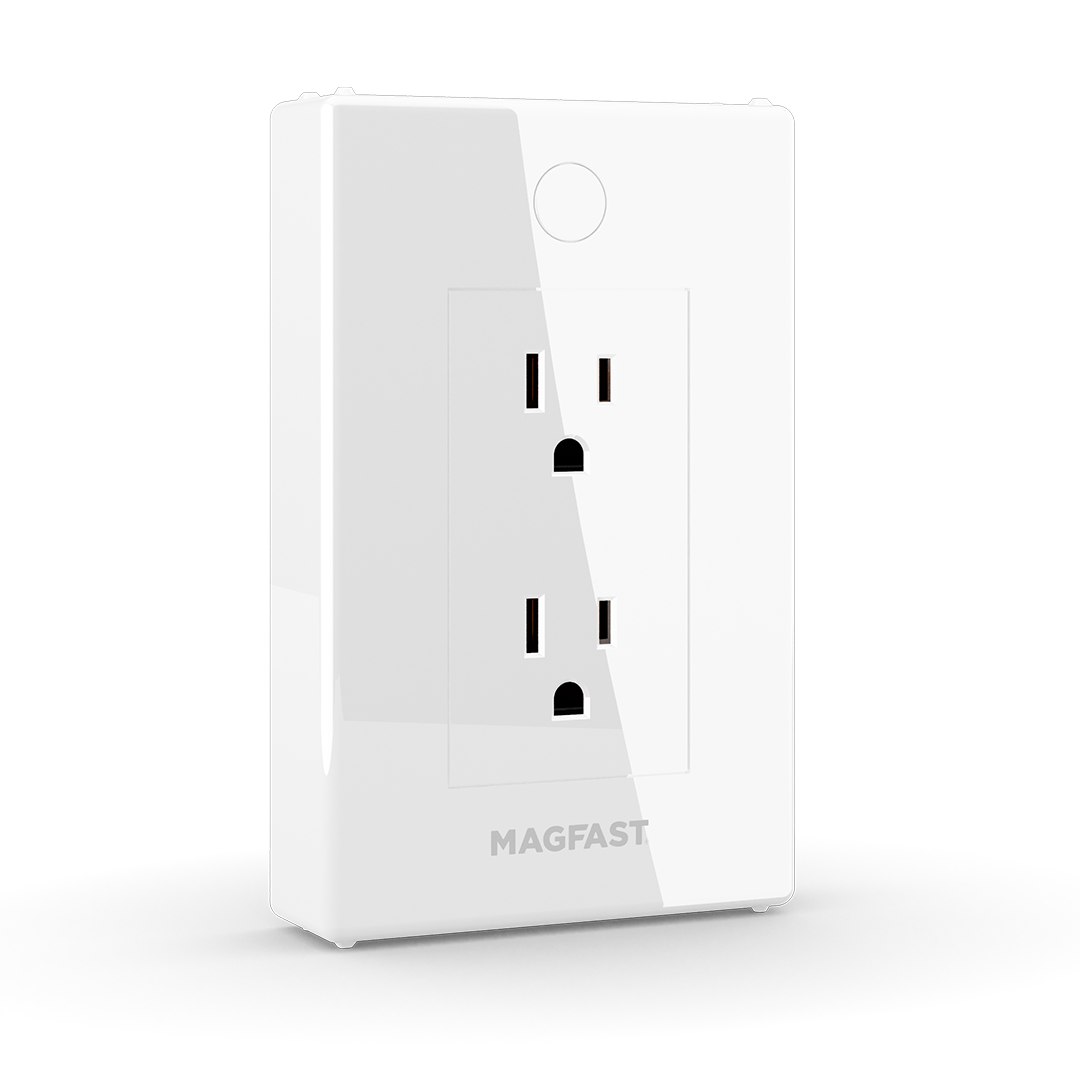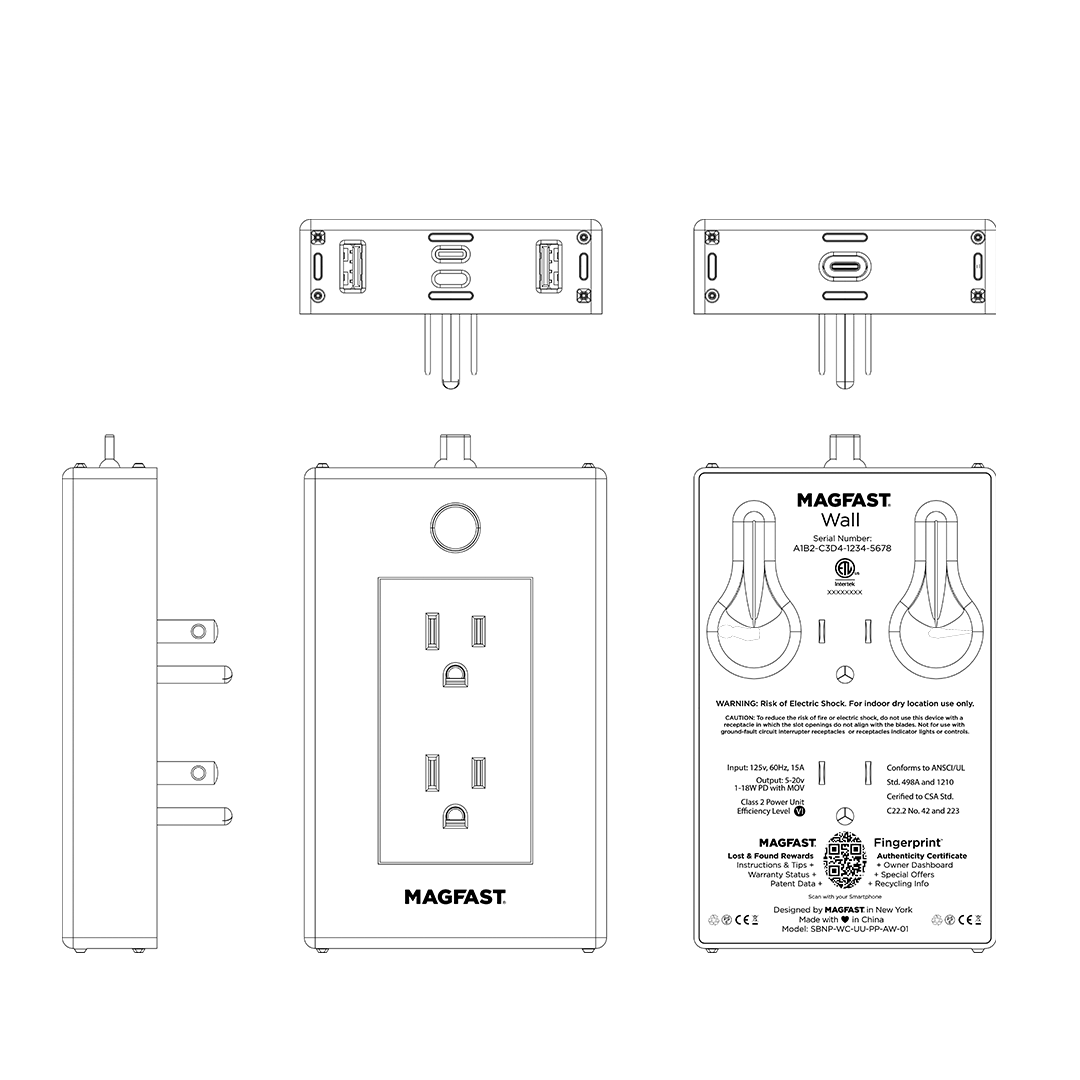 ► Pre-production
► First shipments TBA
Wall SP2X is the MAGFAST family's 'invisible base station', including surge protection + double the power