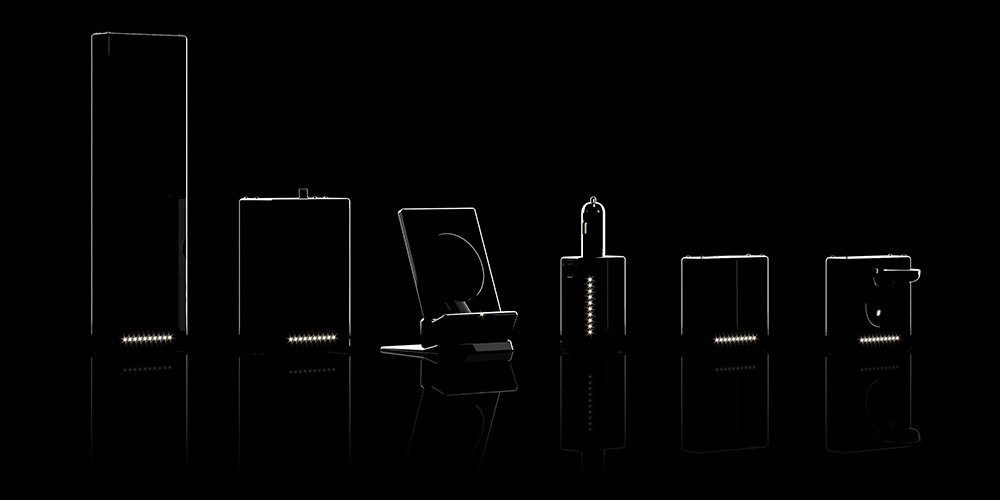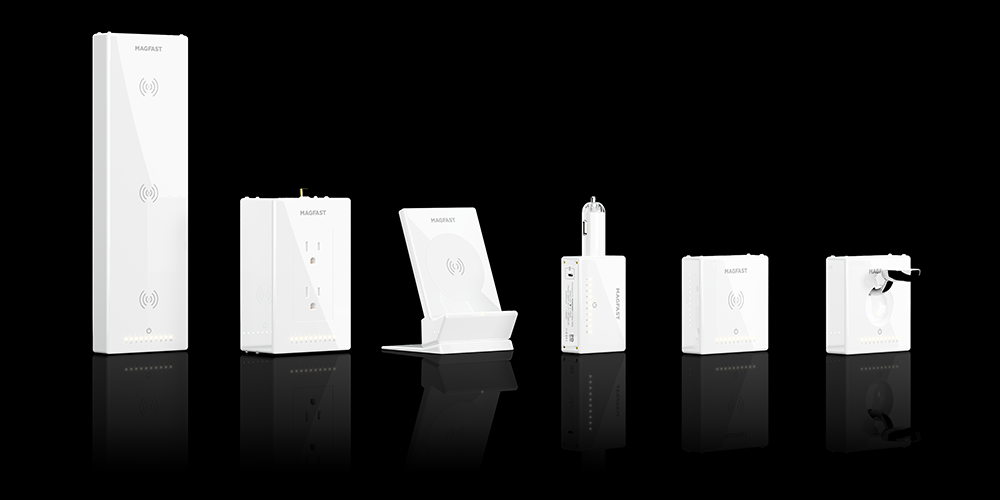 *Video update coming soon.
Watch this space.
MAGFAST Shipping Q1-Q2 2023
Tens of thousands of MAGFAST products have now shipped out to early customers, and the feedback has been extraordinary.
Our pre-production test plan was rigorous, and we have since been carefully monitoring customer comments on every unit that's gone out, looking for patterns, such as challenges charging particular phones or features not working as expected in certain conditions. Fortunately, all the issues we uncovered were minor and only affected a small number of customers in specific circumstances.
Our team made the decision to hold back production of batch 8 onwards in order to include upgraded firmware – improvements to the programs that run on MAGFAST circuit boards – based on early feedback.
We baked in time to cover these enhancements – our aim was to maintain the original schedule – but that ultimately hasn't proven possible.
Here's the good news:
We're now back in production. While deliveries have been delayed, we're manufacturing again and working hard to ship units as quickly as possible.
MAGFAST Air is in mass production! Every Pro Kit customer who has received Life and Extreme will shortly also receive Air. And Extreme, Life and Air are in the box for all new kit shipments going out.
Thank you, as always, for bearing with us. We will make further updates to the shipping table below as we receive production updates.
MAGFAST Shipping Q3-Q4 2022
Many thousands of units have shipped, with many thousands more to follow in the coming months. We'll be posting updates here, along with your unboxing videos and some amazing, exciting reviews of the MAGFAST product range in action.
The final shipments for batch 4 & 5, which include the latest tweaks and upgrades recommended by our earliest customers, are on their way.
There are a few people in earlier batches who haven't responded to our outreach to confirm or update shipping address. If you have not received your expected shipment, please contact customer care at hello@MAGFAST.com.
A reminder that all current shipments at the moment are MAGFAST Extreme and Life, with Air following as quickly as possible. As always, we will cover the additional shipping cost of multiple shipments.
For everyone excited to see MAGFAST in production, please take a look at these videos which show final assembly of all components after manufacture of all the circuit boards.
Latest Shipping Batches
This table shows all the latest shipping details for alpine-white Pro Kits – and we'll soon be adding batch details for forest-green Pro Kits and individual products in both white and green. Managing thousands of shipments per month for multiple products is complex – please bear with us … We are working hard to accelerate shipments to everyone – please watch this space and your inbox for further news!
We usually don't update the table until we have definitive news from the factory on a change. This means that, until shipping is flowing fully predictably, the table will sometimes show an end shipping date for a batch that's in the past. In this situation, please know that we will update the final ship date for the batch as soon as we have it.
Because of product tweaks from early user feedback, the earliest batches have been the least predictable. As our shipping infrastructure improves, we're all looking forward to smoother, more consistently dependable shipping progress.
MAGFAST Shipping Q2-Q3 2022
Exciting news! The first three batches have (almost) completely shipped. We're delighted with the great feedback we've been receiving, and looking forward to showing some of the amazing unboxing and testimonial videos we've received from early customers.
However, a small number of early customers have reported a problem when charging certain devices. They saw flashing red LEDs indicating an error, particularly with the latest iPhones with Apple's MagSafe wireless charging. We know this isn't a problem with all units, but it is one we had to stop, investigate, and fix.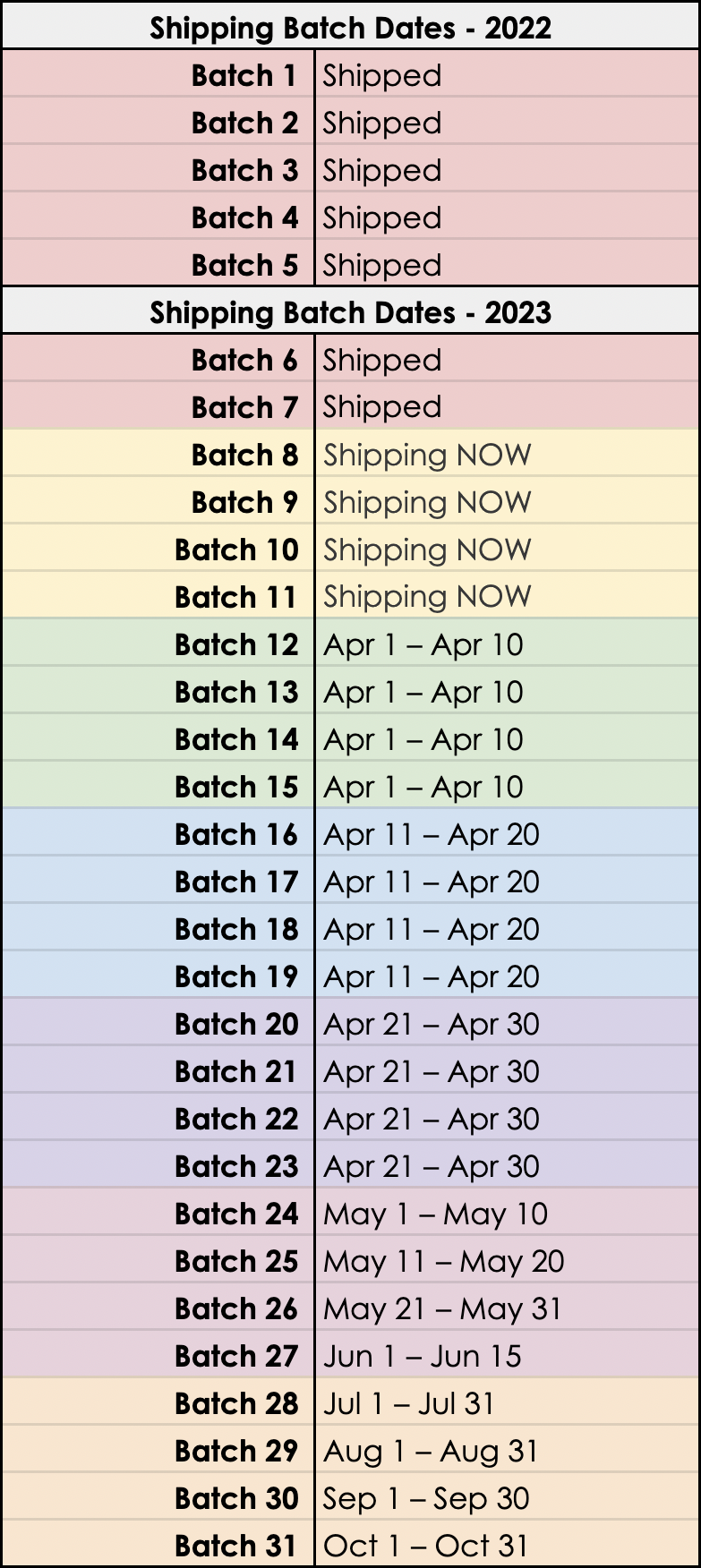 Our engineering team in the U.S. has also been hard at work testing the early production units in every possible configuration that we can conceive … There are literally thousands of combinations of ways to charge or get a charge from your MAGFAST Extreme, and hundreds of mobile devices that each product can charge. Even though we have worked over many months to test every scenario, we can't possibly cover every configuration with every device on the market in every setting. And so we are immensely grateful to our early customers who have put their brand-new MAGFAST devices through their paces in their own environments.
These products, already upgraded substantially from the versions many of you pre-ordered, are now even more capable. Yes, if you're an early customer, we will make sure you get all those upgrades!
We know you've already been waiting too long, but we also know that we must stop new production briefly while we roll in fixes and tweaks.
There is a major silver lining: as a result of all this extensive testing and a massive push by our manufacturer, we are delighted to report that we are now able to bring higher volume manufacturing online faster than planned.
If you are in batches 4 to 9, you will spot that we have, with reluctance and many apologies, shifted your shipping dates back. Know that we are pushing hard to limit the impact and to turn a delay for some into faster shipping for the majority. You will receive a notification with our very latest information closer to your original shipping batch date.
MAGFAST Shipping Batches Q4 2021-Q1 2022
Shipping details for the tens of thousands of MAGFAST pre-orders are firming up.
With great thanks to our production team for working unremittingly to overcome supply-chain issues and to accelerate the pace of manufacturing, the table here shows batches from Q4 2021 onwards. If you haven't received your shipping batch yet, it is coming. We promise.
In case you missed earlier announcements, our shipping plan is as follows:
Pro Kit pre-orders will ship first, with delivery for earlier batches in two parts:
Hello Kit: Extreme, Life and Air
The remainder of the Pro Kit: Road, Wall (2x)
If you are in the continental United States, shipping for both packages will be free. Your part will be to cover any sales tax (VAT in some countries). If your shipment is to a destination outside the U.S. there will be international shipping costs. Your government might also charge customs duties – not payable to us, but typically levied when you receive the package.
If you decide to wait to receive your Pro Kit in a single shipment instead, please let us know or simply ignore the shipping email. We will then e-mail you some months later once the full Pro Kit is ready to ship in a single package.
As always, we will do our best to communicate clearly, and to be fair.
Please note that shipping for Forest Green starts after Alpine White. You will have an opportunity to switch to Forest Green (if you've changed your mind and are happy to wait a little longer) or to Alpine White (if you'd like to get started sooner). Forest Green could ship as long as two to three quarters after Alpine White.
And, with our apologies, we cannot offer to mix and match colors in a single Pro Kit. One kit, one color.
We are ramping manufacturing as fast as we can. Yes, we're constrained by the Great Supply-Chain Meltdown of 2021. But our production team has been working tirelessly to minimize its impact, even with tens of thousands of pre-orders to ship and components hard to come by. Please click here to see some of our research on the causes of the meltdown, and how we're actively addressing the challenges.
MAGFAST Shipping Ramps Q3-Q4 2021
These are exciting times at MAGFAST – albeit with some new challenges that we're actively addressing.
The first production units have been a huge hit with early customers. Watch this space for rave reviews from early users.
We're readying to ramp production as fast as we can.
And we'll be publishing shipping batches before the end of this month. More on that below.
So what have we been up to, as we prepare to manufacture and ship your pre-order with MAGFAST-level love and supreme attention to detail?
Here are just some of the activities that have kept our team busy, all designed to ensure that your pre-order is of the highest quality, shipped to you as fast as we can:
1. We promised MAGFAST would be a partnership with you, that we'd constantly look for your input — and that's precisely how we are now ramping up. We've been taking every possible scrap of feedback from everyone who's received production models so far, and using the opportunity, while testing and buying more components, to make additional tweaks. (Don't worry about those early users – they'll also get every one of the improvements.)
2. Unlike a conventional charger or power bank that has only one input and one or two outputs, most products in the MAGFAST range are uniquely complex with multiple ways you can bring power IN, and multiple ways to take power OUT. MAGFAST circuitry needs to handle orders of magnitude more combinations of input and output devices. That means we're testing, testing, testing early production units, in every possible combination, from everyday situations to the most extreme. Our production team has done this intricate work for decades, and yes, they're testing rigorously, and as quickly as they dare.
3. If you've been trying to buy any cutting-edge products recently, you already know there's a new dragon to slay: the Great Supply Chain Meltdown of 2021. Seymour covered some of the impact in a recent Upgrade (you can get to the heart of things by skipping the first couple of minutes) and a more detailed article is coming. We're on it: our manufacturing partners have been burning the midnight oil hunting down alternative sources for the affected components in our products.
Shipping Batches
From the end of September 2021 onwards, an updated version of the table below will appear at the head of this page, including the latest shipping dates and details. You will receive an email with your shipping batch (remember, it'll take time to ship all the pre-orders from the record-breaking first day – please be patient).
The table will include shipping dates for at least the next three shipping batches.
Yes, we know you may not yet have your shipping batch. If not, it's on its way soon.
Here's where things stand with the batches we've shipped and the next three coming up. And, yes, the pace of shipping will accelerate significantly as we ramp production: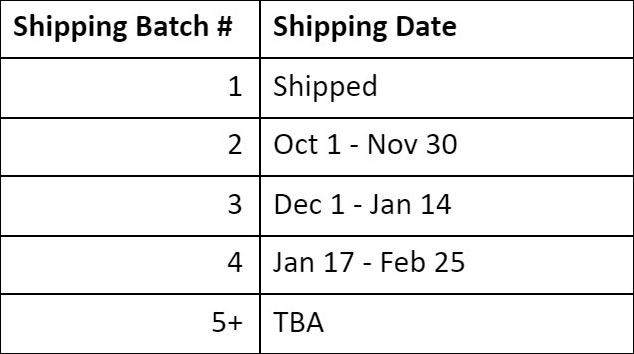 MAGFAST Shipping Starts! Q2 2021
The day has finally arrived.
The first production units are right now rolling off the production line, and the first packages containing precious MAGFAST cargo will ship in the next few days, barring any final quality-inspection question marks. Even then, any delay will be measured in days.
It's an important milestone in MAGFAST history – one that's been too long in coming, but that sets the stage for massive future growth. All the product development now behind us can now be incorporated into future products. And it's a milestone that's thanks to you: we can't thank you enough for all your remarkable support and patience.
Here's a video of a small batch of Extremes being carefully hand-assembled and hand-tested at the factory. You'll see one Extreme snap to charge another. The process is slow and cautious in these early days.
Stay tuned for more production videos, unboxing videos and early reviews from the first customers – we'll be posting them here.
If you are a MAGFAST pre-order customer, you probably have two important questions:
1. What's shipping right now?
2. When will I get mine?
The answers are here and in future updates to this page.
Please look out for MAGFAST emails that will answer these questions specifically for you. And please, be patient while production ramps up. Our team is working hard to ship everyone as quickly as possible, and we ask that you don't overwhelm customer support asking questions that are answered here.
Here's what you need to know in answer to the two big questions above:
1. What's shipping right now?
All the first packages going out contain MAGFAST Life or MAGFAST Extreme, or both. If you pre-ordered a Pro Kit, your package will contain both Life and Extreme.
In a few weeks, we will also be shipping MAGFAST Air. We will update this page and email you when that happens.
2. When will I get mine?
There are tens of thousands of MAGFAST pre-orders, and realistically it will take several months to ship them all. PLEASE, be patient meanwhile. We know that everyone's looking for their pre-orders as quickly as possible, and we will ship them all as fast as we can.
Here's the more specific answer: our goal is to ship strictly in order of pre-order date, starting with the earliest customers who pre-ordered in huge numbers on launch day.
Everyone will be allocated a shipping batch.
You will receive an email in the coming weeks notifying you of your shipping batch. That email will contain a link to this page showing when we expect each of the shipping batches to ship.
You will then receive a second email as soon as your pre-order is ready to ship. You'll be able to make final adjustments to your order, and to cover any taxes due to the state where you live. If you live outside the U.S. there may be value-added tax (VAT) or customs duties due, usually when your package arrives.
Please note that shipping for Forest Green starts after Alpine White. You will have an opportunity to switch to Forest Green (if you've changed your mind and are happy to wait a little longer) or to Alpine White (if you'd like to get started sooner). Forest Green could be as long as two to three quarters after Alpine White.
And, with our apologies, we cannot offer to mix and match colors in a single Pro Kit. One kit, one color.
The day MAGFAST launched was one for the record books: over $600,000 in pre-orders on our very first day – an unprecedented achievement for a small startup making sales on its own website. For comparison, a strong sales day for us now is closer to $20,000.
That means that it will take time to ship all the pre-orders from the first few days: the first three days together represent at least 50X the quantity of orders we received on a typical day in 2017!
And, yes, you're bound to have some follow-up questions. Here are some we anticipate:
Will the worldwide silicon supply-chain shortages affect MAGFAST?
Yes. You may have heard that everything from graphics cards to new cars has been hit by a COVID-related supply-chain problem. We hope the effects are already behind us for Extreme, Life and Air. Nevertheless, supply-chain shortages are currently affecting Road right now – see below.
I pre-ordered a Pro Kit. Will I receive a Hello Kit followed by Road and Wall?
Yes!
If you've watched our Upgrade broadcasts, you already know that, together, MAGFAST Air, Life and Extreme make up the Hello Kit. As soon as Air is also shipping, that's what all shipments will contain. (Don't worry – if you're one of the very early customers and you receive Life and Extreme before Air, we have an extra surprise for you.)
The rest of your Pro Kit will follow later. There's more on that below.
I pre-ordered a Pro Kit which you're sending to me in multiple shipments. Will MAGFAST cover the extra cost of shipping?
The short answer is: Yes!
Our goal is to have your pre-order products in your hands as soon as they're available, so we're not waiting to ship your entire Pro Kit at the same time. That's our decision, and, as long as we can afford to do it, we will cover the extra cost.
Longer answer: We're a startup with limited resources, so we will ask you to help where you can. For example, there will be opportunities to order more products at the special pre-order rates, and we hope you will help out by adding a few items to your cart at checkout. If the economics don't work out, we may have to take a different approach.
How long is it going to take to ship all pre-orders for products now shipping?
We will know the answer to this better once our production lines are turning out MAGFAST products at a predictable pace. Our best estimate right now is that all Alpine White pre-orders for the Hello Kit (MAGFAST Life, Extreme and Air) will ship over the coming months, with Forest Green two to three quarters behind.
How about the rest of my Pro Kit pre-order?
There are two other products in the Pro Kit: MAGFAST Road and MAGFAST Wall.
The good news, in case you haven't heard it before, is that all the design work on firmware and circuitry for MAGFAST's unique features – magnetic snap-to-charge, lots of USB-C and USB-A ports providing multiple ways to get power in and out, LEDelicious – all that work is done, and it all applies to Road and Wall… and future products that are still a twinkle in our founder's eye.
The engineering and design teams have been able to focus almost 100% on Road and Wall recently, and things are moving fast, although we don't yet know how much the supply-chain shortage will impact production.
The news for Wall is even more exciting. Without giving away too much, the Wall that you will receive is a major upgrade from the original version you pre-ordered: using the latest Gallium-Nitride (GaN) technology, MAGFAST Wall now packs more power output and with more features.
Production Gearing Up! Q1-Q2 2021
If you've been watching The Upgrade in recent weeks, you know that the beginning of 2021 has been a hugely productive period for MAGFAST, with significant progress on a number of key fronts. Most importantly of all, we've been pushing our manufacturer hard to keep production on track.
Here's the latest:
Tooling moves into manufacturing – Life, Extreme, Air: Great news: metal cutting for Life and Extreme tooling is now complete! We're continuing to move into production. The not-so-good news: the engineers required a crucial adjustment in the design of Air to allow mass production tooling, which resulted in a two-month delay. This was regrettable but necessary in order to ensure that we deliver the highest quality, most advanced family of chargers possible.
Production of Life and Extreme will not slow because Air is running late.
Packaging in full production: Packaging for all three of our 'first phase' products – Life, Extreme and Air – plus the jumper cables that accompany Extreme, is now complete and we have issued a purchase order to our manufacturer for mass production. We worked long and hard to develop a packaging system that's as beautiful as it is protective.
Fulfillment: We're also happy to announce that we've selected our fulfillment partner, and our team is working closely with theirs to integrate our procedures and systems. Warehouse space has been allocated, and we are setting up the systems and partnerships with the carriers who will deliver to your front door.
New challenges: While tooling and packaging are moving ahead quickly, there are some new challenges out there in the world with supply and shipping:
Global shipping disruption: While many people expected demand to drop during the pandemic, online shoppers at home have actually been buying more! With insufficient labor to unload cargo, there are now ships circling harbors unable to dock and containers piling up on dock sides in the U.S. and Europe, causing a severe container shortage in China. The cost of shipping from China is now up by as much as 400%, and rising.
Global supply-chain disruption: Our manufacturing partners have been faced with component shortages. Disruptions in China's ability to source, manufacture, assemble and ship products have hit everything from cotton for clothing and shoes to microprocessors for laptops, and chemicals for medicine production. Even electronic giants have been hit, including Apple and Samsung, both delaying product releases this year.
Falling dollar: And there's another factor: the dollar is worth almost 10% less against the Chinese Yuan than May last year – which pushes up the price of everything we bring in from China.
What does this all mean for MAGFAST and you?
Fortunately, with your amazing support, the news is still good:
Pricing: We are absorbing the increases in production and shipping costs. Your pre-order is safe and we will of course 100% honor the original price you paid, including your discounted pre-order rate.
Shipping: We've been pushing our manufacturers as hard as we dare to get the first units to our fulfillment center by the end of March. While they can't quite hit that, we're happy to report that the first units will roll out during April and the very first customers will receive them shortly after that.
Tens of thousands of awesome supporters are waiting for MAGFAST pre-orders to ship, which means we can't yet predict exactly when you'll get yours. But as soon as production ramps up, we will announce shipping batches with dates. And we'll bring you video of those first production units, complete with all the enhancements.
Your support and patience continue to inspire us. We look forward to shipping your ground-breaking products.
Final Pre-Production Adjustments: Q3-Q4 2020
Extreme: First pre-production model in testing. A new pre-production model has been shipped and just arrived this week and testing has commenced.
Extreme: Review of extra safety measures. Our team reviewed the safety measures for all Extreme power banks. In addition to the 500A lithium-polymer battery (note for reliability and tested over an extended period) the 12V output has a protective cap as standard and uniquely, in our experience — silicon insulating tips on both metal poles to minimize the chances of a short circuit from a foreign metal object.
Air: Second pre-production model tested. This model resolved almost all issues and Air is very close to production readiness. However, we identified three issues which precluded final sign off for tooling: (1) Qi latency: a delay before Qi charging begins, (2) Qi coil resonance: a slight 'buzzing' sound when charging. An updated pre-production model is being prepared.
Life: Second pre-production model tested. The second unit arrived and is 95% correct: excellent mechanical results, all ports charging as specified, LEDelicious working almost perfectly. We found minor problems with this model: (1) LEDelicious wired to indicate charging on incorrect port numbers (2) coil resonance. An updated pre-production model is being prepared.
Production Tooling Underway! Q4 2020-Q1 2021
Air, Life, Extreme: All three products released for tooling. Although challenges with the new Apple "Magsafe" wireless charging for iPhone (see below) delayed the formal start of production, all three products have now been released for tooling. This final delay was very unfortunate, but crucial: we could not manufacture tens of thousands of units that would fail to charge Apple's new iPhones.
The good news is that the entire MAGFAST range will now be fully compatible with Apple's Magsafe. Tooling is the final stage before shipping and the schedule is now a highly predictable, mostly automated process.
Our manufacturer has committed to us that production units will arrive at our fulfillment center in time to make first shipments to first customers with the updated Qi design (and *all* the improvements we have added since we first announced the MAGFAST family) by March 30, 2021. We will work to hold them to this commitment.
All products: Apple iPhone 12 brings charger problems. In late September, our team started hearing rumors about changes to the wireless charging technology in the soon-to-be-released iPhone 12. There were concerns, on review of the new Apple "Magsafe" wireless specs that it might not support industry-standard Qi chargers. This was a real risk: Apple is not always concerned about backwards compatibility. We were in active communication with our manufacturers and took the painful decision to slow release to tooling until we had reviewed the changes introduced by Apple's Magsafe.
Apple announced the iPhone 12 on October 13, indicating that it had introduced magnets to the area of the Qi coils. Our team recognized the potential for wireless charging issues: Qi chargers use electromagnetic fields which can be affected by magnets.
We immediately put a hold on tooling to minimize the risk that we were about to produce many tens of thousands of chargers that might not work with iPhones in future – a potential disaster for MAGFAST and our customers.
The first iPhone 12s were shipped on October 23. We immediately purchased one for testing: as with many of our competitors' products, Apple's magnets caused problems with MAGFAST's chargers. Apple support would not officially acknowledge there was an issue, although the support representative admitted that his new iPhone 12 did not work with the Qi charger in his car.
To demonstrate the scope of the problem, by 6:40 pm on the second day of shipping for the iPhone 12, there were already 1,893 official reports of customers unable to charge their iPhone 12s using existing Qi chargers.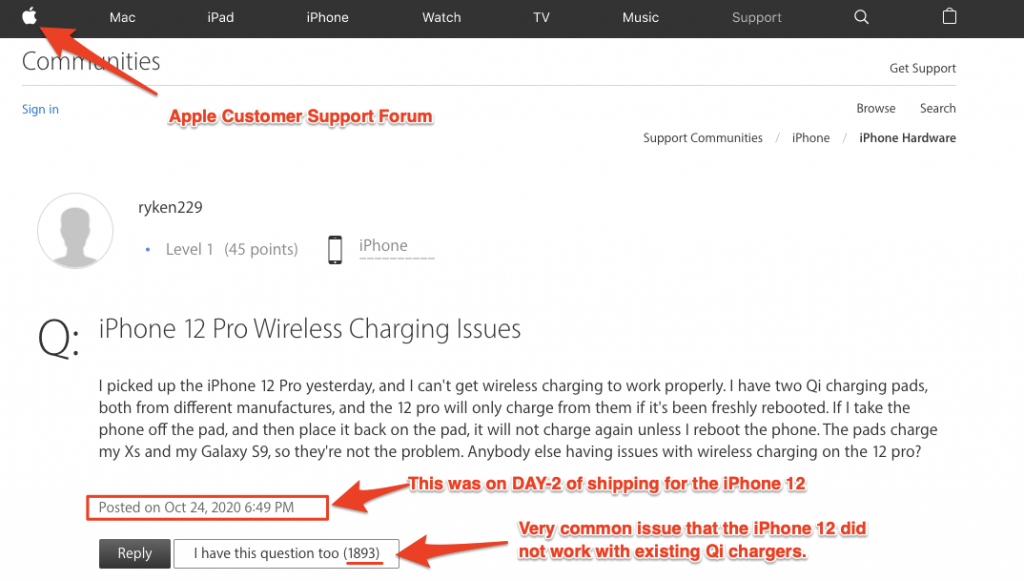 Our team scrambled to solve the technical issues. Once we were nearing a solution, Seymour/Shawn were able to make an announcement during a live video episode of the Upgrade to release Extreme to tooling.
On December 7, Apple finally admitted there were serious issues with Magsafe wireless charging on the iPhone 12. However, on December 17, we were delighted to confirm in extensive tests using an updated design prototype, that MAGFAST's updated chargers now work smoothly and reliably with Apple's new wireless charging technology.
Final Engineering: Q2 2020
Road: Stabilizers. We tested the torque exacted on a vertically-mounted 12V car outlet and finalized the stabilizer design required to ensure that Road fits firmly and snugly.
Wall: Package expansion. It turned out that, even using GaN, there were severe space constraints for Wall. Much of the interior is taken up by the tip mechanism and wall prongs leaving precious little for charging circuitry. The system is based on a standard width across all products, so that could not be increased — hence we made the decision to expand the depth, front to back, which far more than doubles the total space available for circuit boards in current and future models. As an added benefit, future products will also be able to use a variant of this form factor.
Final Engineering: Q1 2020
Extreme: Extensive work on prioritizing power distribution among devices that exceed the total power output capacity of the device. Because Extreme has so many output ports, it's possible to draw more current than this unit is capable of delivering. We made the decision to share power pro rata among all ports: every device being charged continues to charge at a proportionately slower rate.
Extreme: Final engineering on multiple power outputs — resolved technical challenges relating to 3xQi + USB outputs rated up to 18W combined in a single unit with jump-start capability. Extreme is a truly first-of-a kind product with a unique combination of features in a single package. We made a series of decisions that resolved the challenge of combining high-energy-density required for maximum phone charges with lower-density high-current needed for jump-start 'burst' output.
Extreme: Selected lithium-polymer battery chemistry for performance and safety. We made the decision to specify a higher-cost battery based on the new lithium-polymer technology which offers a higher performance/safety combination than lithium ion. Our research indicates that competitive batteries deliver a bigger charge (unnecessarily) and burn out after a relatively small number of jump-starts. Lower-quality battery chemistry can also leak and swell, causing the outer casing to crack. We selected a 500A battery — lower current than many alternatives, but powerful enough to jump-start numerous SUVs and trucks on a single charge, much safer, more reliable and offering significantly longer battery life.
All products: Feature alignment between all family products. User experience inconsistencies between different products in the range were identified and aligned. All products in the range now use the same circuitry decisions to ensure consistent LED performance, charging prioritization among ports, etc.
Extreme: Tested 18,500 mAh lithium-polymer battery with multiple vehicles.
The first lithium-polymer batteries selected for MAGFAST arrived in the U.S. and we tested their 12V jump-start abilities with a range of different vehicles, up to and including a 5.4-liter Ford F150. The first series of jump-start tests were on Jan 23, 2020 and resulted in a failed dongle that had to be diagnosed.
The second series of tests were on Feb 7. We tested with several different safety-protection dongles: the lower cost dongle blew up on the first attempt while cranking a large truck engine. The premium dongle worked flawlessly and a fully charged Extreme successfully cranked the truck engine 6 times before being depleted to a point where the dongle shut off the current.
Road: Final engineering changes to maximize utility while plugged into 12V car port. We worked extensively on Road to maximize its utility for use in-car. Total USB outputs were increased to 3 x USB-C (18W) plus 3 x USB-A (shared XW) to allow up to six vehicle occupants to charge simultaneously at maximum power. We finalized engineering of the circuit board to bypass Road's battery while the device is plugged into a 12V car output: full current is now delivered direct to USB outputs. Road auto-senses when it's no longer plugged in and switches to battery power.
Road: Flashlight engineering. A series of decisions were required for completion of the flashlight assembly, including the stabilizers (to ensure that Road stays plugged in during travel) and the light reflector. After testing several different versions, we determined that the beam cast will be broad (floodlight rather than spotlight).
Time: Redesigned to allow larger battery. Our engineering team had made some choices to allow MFi (Apple's Made-for-iPhone/iPad certification program) compliance that significantly reduced the battery size. We reconsidered the constraints and managed to expand Time's battery capacity substantially.
Time: MFi compliance for charging disc. Apple's MFi certification is fastidious over the physical positioning of the charging disc for Apple Watch. Great care is required to ensure that a watch is charged successfully, doesn't fall off the disc, or otherwise fail to charge. We completed this work successfully and submitted to Apple for final MFi certification.
All products: MAGFAST magnets specified. We tested numerous magnet options and finally found the right units with the correct dimensions and pull force. Our original intention was to position the magnets underneath the plastic case. However, this option proved unworkable because the added distance between magnets diminishes the pull force exponentially. The final resolution was surface-mounted N52 magnets with a durable hardened white-epoxy coating.
Wall: SP2X upgraded to 30W GaN. The latest Gallium Nitride (GaN) semiconductor technology allows much smaller charging components that operate at lower temperatures. We made the decision to add cool, compact GaN to Wall with the intention of expanding possibilities, starting with an increase in USB-C power output to 30W for Wall SP2X.
Life: Functioning sample received with MAGFAST connector functioning — power in/out fully operational.
MAGFAST's Products
Designing and engineering different products simultaneously, each best-in-class, has been more complicated than we expected. Completion of the engineering process was also hit in the first half of 2020 by COVID-19 then in the second half of the year by Apple's release of "Magsafe" for the iPhone 12, adding magnets to the Qi wireless standard that interfere with many Qi charger. We have addressed these challenges and pleased to report excellent recent progress in finalizing the entire product range.
Taking on the design of an entire family of products all at the same time has been a monumental task for such a small company. But there have been some benefits of this "design and engineer everything together" approach:
We knew from the outset this was the only way we knew we could deliver a seamless, integrated experience. Because MAGFAST is a family of devices, we have designed consistent, intuitive behavior across all products.
Some products have presented unique challenges – but many features are common across the range. We have been able to solve many engineering challenges once, then apply the solution across the entire family.
MAGFAST products are designed and engineered to exceptionally high standards, and we are planning a manufacturing process which will be driven by the same quality expectations. Our manufacturing partner has a full-scale testing facility which allows us to 'burn in' (test) all units to ensure an infinitesimally small failure rate: every MAGFAST device will be put through a comprehensive testing cycle before packing and shipping.
Click on the More… links below for a detailed, up-to-date view of status and timeline for each product in the family.
Life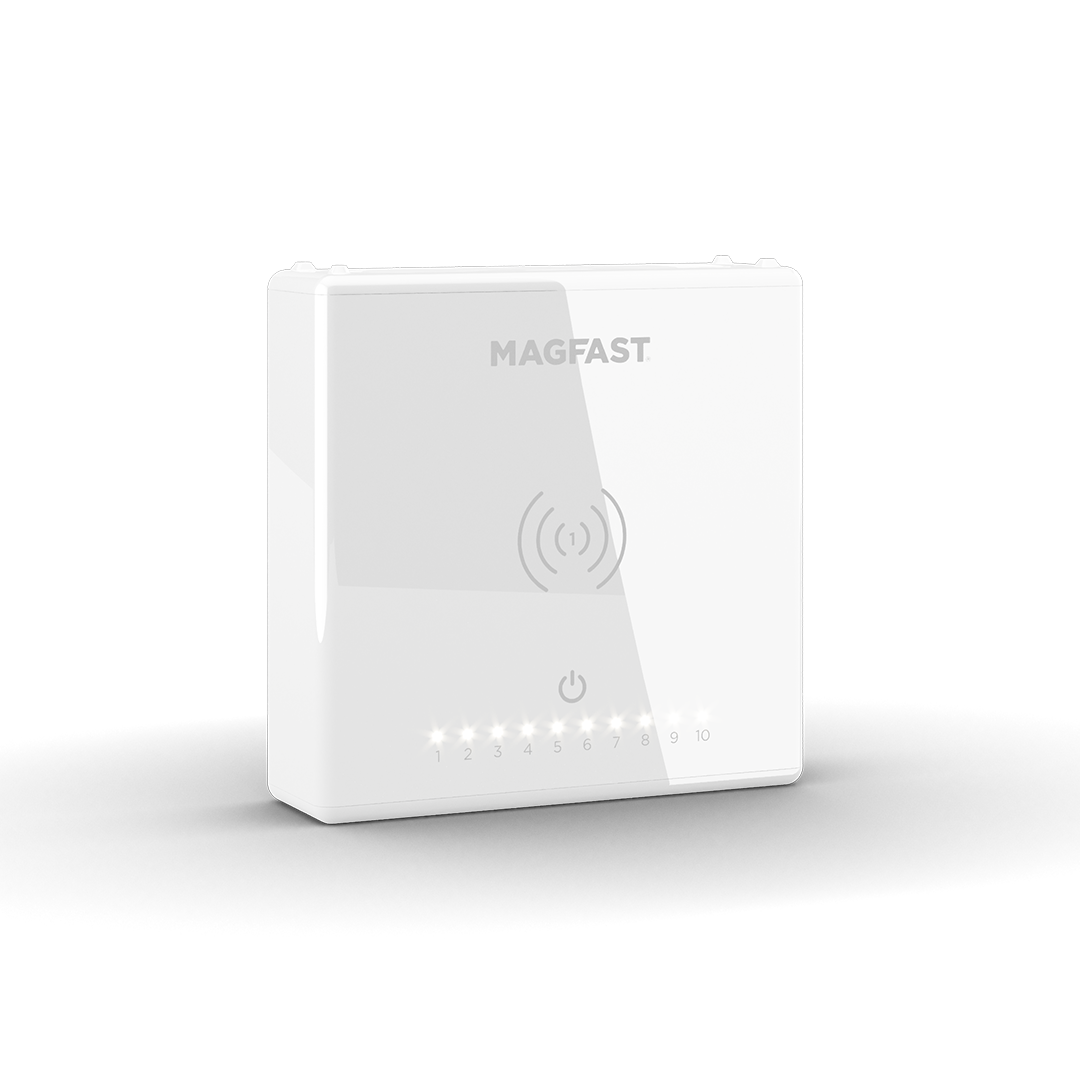 STATUS
Pre-production sample approved
First shipments to earliest backers scheduled
Extreme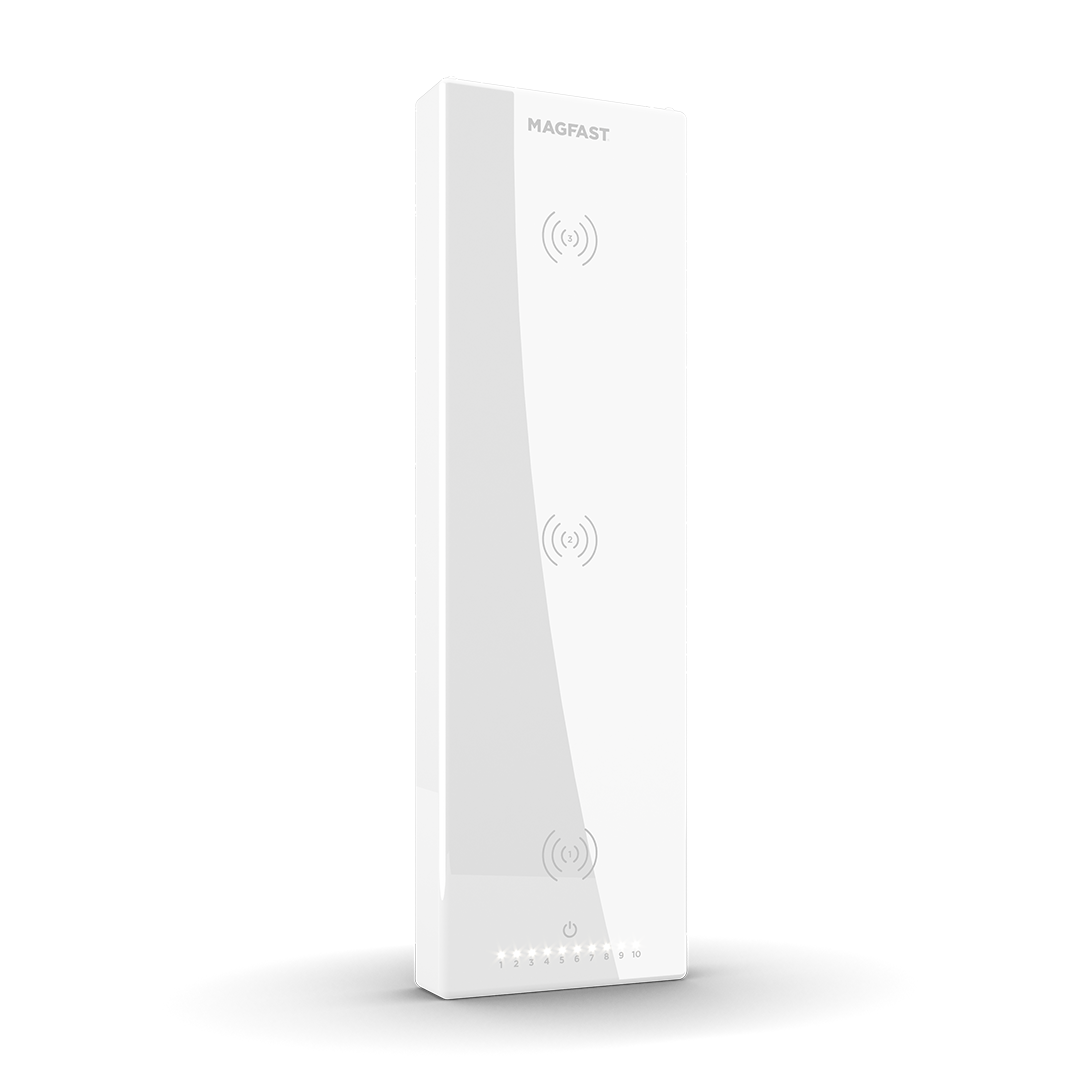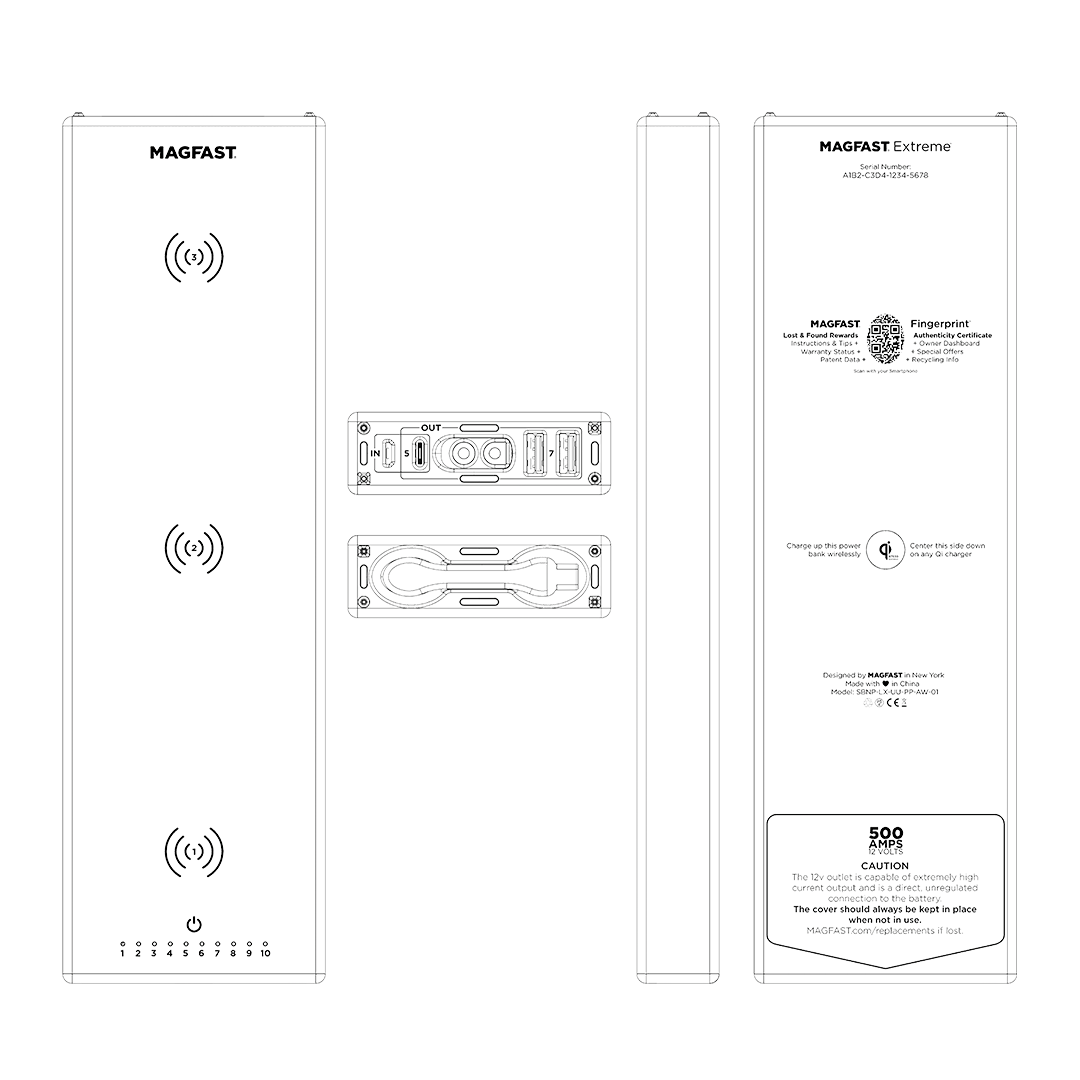 STATUS
Pre-production sample approved
First shipments to earliest backers scheduled
Air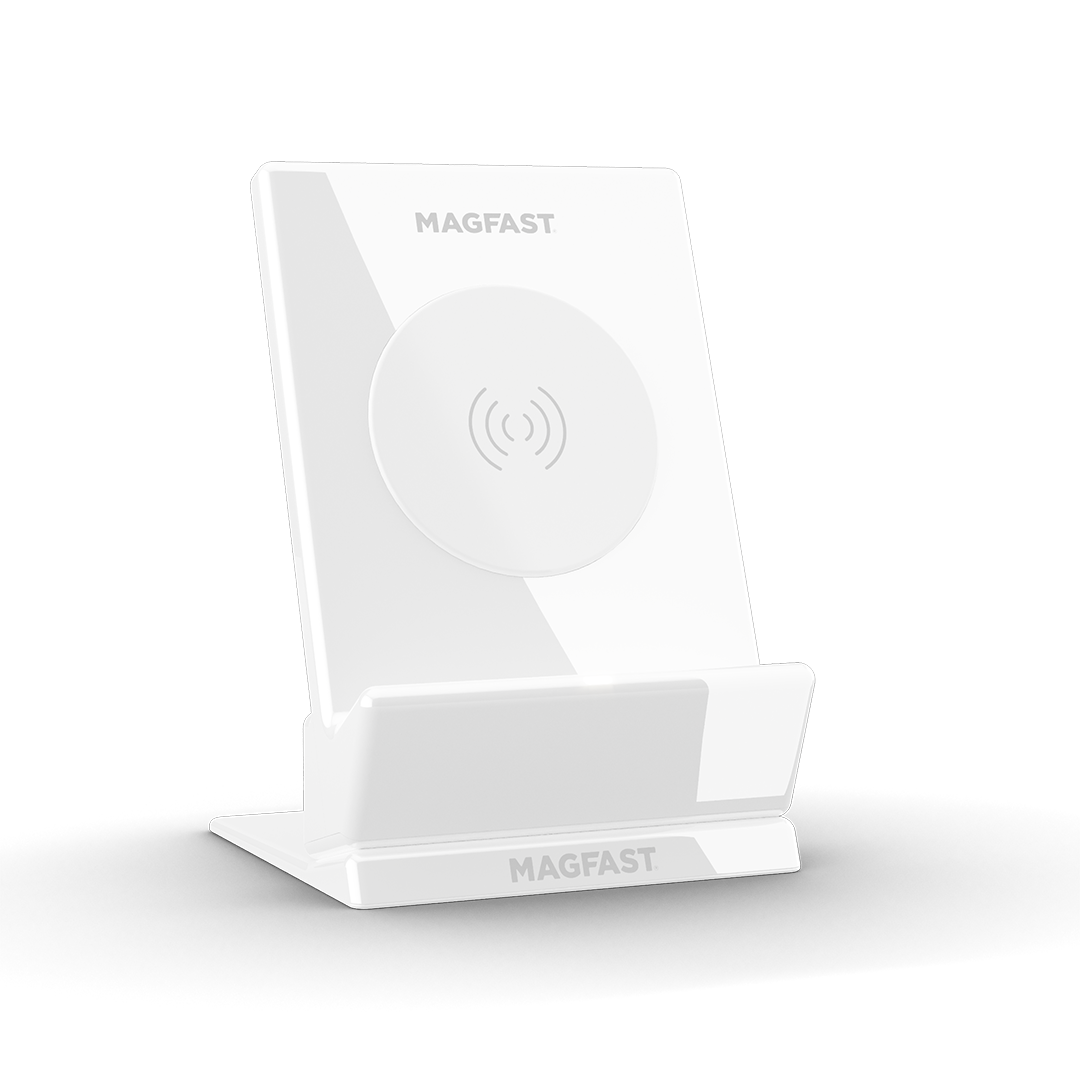 STATUS
Pre-production sample approved
First shipments to earliest backers scheduled