Investors
MAGFAST is a revolutionary new family of wireless magnetic chargers that change charging for good.
Investor Overview
4(a)(6) offering provided by Netcapital Funding Portal Inc. Security transfer functionality provided by Netcapital Systems LLC.

Introduction
MAGFAST[1] is a direct-to-consumer electronics company, designing and manufacturing a family of premium charging products that snap together magnetically, charge wirelessly, and support every device from every brand. We know there's a huge demand and our customer-acquisition model is proven: we test launched MAGFAST in 2017 and pre-orders totaled over $250,000 in under 15 minutes, and over $600,000 in the first 24 hours. Higher-end consumers have to date placed pre-orders worth over $Xm by the end of 2020.
The global market for chargers and portable power banks is worth over $20 billion, and growing fast and yet somehow there are no great charging brands!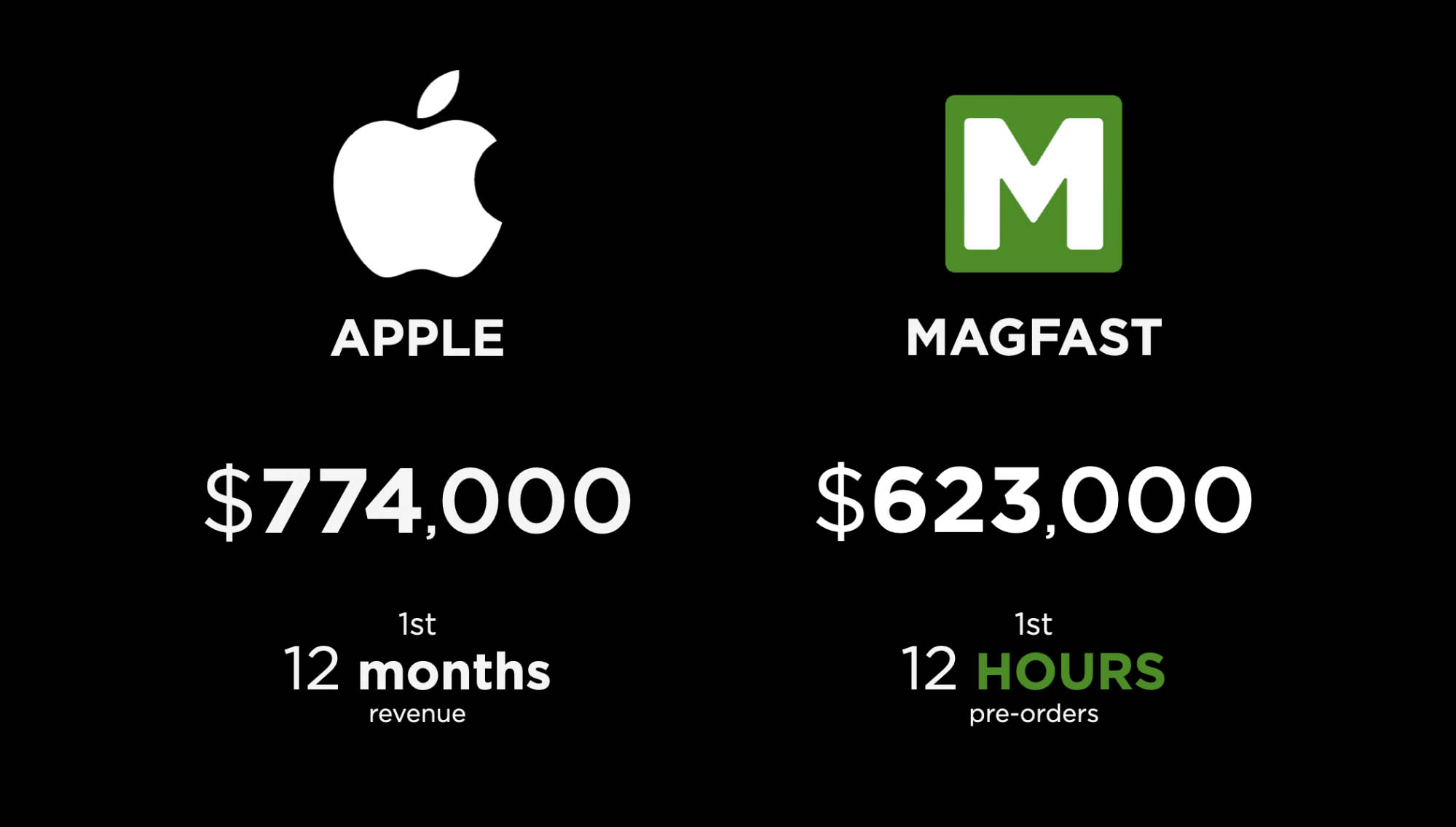 OK, so it's not, forgive us, an apples to apples comparison … but we're very proud of the massive market validation when we first revealed our vision to the world!
I just wanted to state how awesome and amazing you guys truly are. I'm extremely excited about your products and I've been telling everyone I know about it. Not only is your product awesome but your team is awesome. I could watch you guys talk about your product all day. Thank you for showing us insight on your tremendous accomplishments.
– Ryan Foreman, show review
The Solution
MAGFAST is:
designed to be best in class for each charger and power bank individually
the ONLY wireless, magnetic family of chargers and power banks
engineered to work, consistently, reliably, every time for years to come
designed down to the tiniest detail to be elegant as well as functional.
The MAGFAST family is designed for durability, to take the real knocks of real-life and to last for years to come.
Every MAGFAST device snaps to charge … and so Wall can instantly charge Road and Road can charge Life, and Life can charge Air and …
Every MAGFAST power bank comes with an awesome, fast, built-in, replaceable, patent-pending mini cable.
Because MAGFAST is wireless, you'll just grab your phone or tablet as you run out the door. Because of the magic of magnets, you'll also grab your MAGFAST power bank snapped magnetically onto Wall or another MAGFAST device.
With MAGFAST in your home, your car, your office and your backpack, you're all set. Individually, each product is designed to be best in class. As a family, nothing else comes close.
MAGFAST is by far one of the most honest companies I have ever worked with. They are also very loyal. Their communication skills are above and beyond. I am truthfully enjoying my partnership with MAGFAST! I predict a long and successful working relationship with this company. My hat is off to you MAGFAST!
– William Provost, BBB review
Watch MAGFAST's unique online pre-order experience that has driven nearly $10 million in pre-orders. Here is a
transcript
of the presentation.
Business Model
In official business-speak, our business model is direct to consumer (DTC or D2C).
In more straightforward language, we find our customers directly – through online advertising and a long-form webinar that explains the product range – and then we embrace and pamper everyone who chooses to become part of the family.
Until the product range started shipping (in June 2021), all receipts were pre-order crowdfunding.
Once crowdfunding orders are fulfilled, ongoing DTC sales will be supplemented by Amazon (FBA) as our initial channel partner.
Through superior customer service, regular communication, integrated snap-to-charge products and the announcement of new products and new markets, we believe excellent growth is possible, with strong levels of repeat business and a lifetime value per customer perhaps 2-3X the initial order value.
Market
The charger market is big. Very big.
While analysts don't agree on quite how big, they agree that the market is huge and growing fast. By some estimates, our global total addressable market for wireless chargers and power banks could exceed $40 billion by mid-decade. The wireless charger segment alone is estimated to have breakneck annual growth of up to 30%.[2]
And, unlike most mature consumer markets, there are really no great charger brands.
Competitors include Belkin, Anker, Aukey, Mophie, RAVPower, Duracell, iClever, EasyAcc, Samsung, Xiaomi, Monoprice. Lesser-known (in the US and elsewhere) brands include Aibocn, Boscov, Bestek, Yoobao, iMuto, Maxxima, Moshi, Native Union, Nimble. The market is highly fragmented, with no large companies primarily dedicated to charging, and several smaller companies jockeying to differentiate themselves based on minor feature differences (improved build quality, marginally larger batteries, slightly faster charging times etc).
No charger company offers an integrated system of products that all work seamlessly together, or any equivalent to snap-to-charge. MAGFAST's product range and business model are designed to be considerably more 'sticky' than competitive chargers and power banks.
To our knowledge, no-one else is playing in the 'system' segment we've created. It won't last forever, but we have a distinct first-mover advantage.
I have had many dealings with crowdfunding companies, MAGFAST has been the absolutely best in their transparency and updates with their clients. Quick and almost immediate follow up by both digital and voice (real person) response(s). Any questions or requests have been dealt with promptness and professionalism.
– Robert Toane, BBB review
Progress
The company has made major progress in the following areas:
Product development: engineering is complete for most products in the range, tooling is well underway, and shipments have started on a predictable timetable.
Marketing: our customer acquisition model, as evidenced by nearly $Xm in pre-orders, is comprehensively proven.
Operations: our systems are built to scale.
Customer service: response times and satisfaction levels are consistently well above industry norms.
Intellectual property: the founder has developed a robust portfolio of patents and trademarks.
Product development: design, development, engineering and manufacturing are handled by a highly experienced team led by our Chief Operating Officer, responsible for 34 products over the past 25 years. Our manufacturing partner is P3 International, a US-based manufacturer in New York with partners in Asia. Completing product engineering for the product family has taken much longer than expected, impacted in part by our lack of negotiating power and the effects of COVID-19.
Marketing: MAGFAST marketing is currently 100% online, primarily in the form of targeted ads on Facebook and YouTube. A sophisticated marketing funnel, built over three years by an in-house team in collaboration with an experienced agency, is monitored and optimised constantly.
New online ads are made and released regularly and tested in different market segments; each month's learning is fed into new creative, constantly refining format, benefits and content. Ad respondents typically attend a webinar offering pre-shipping (crowdfunding) pricing.
MAGFAST's direct-to-consumer (DTC) model affords us a much closer relationship to prospects and customers than traditional consumer electronics manufacturers using conventional wholesale and retail outlets as their path to market.
Operations/IT: the company has been based since inception on a virtual workforce, with team members working remotely in the US and other countries, and a comprehensive suite of online technologies designed to scale. MAGFAST.com has been built from scratch in 2017 – no legacy code – in order to handle high traffic volumes reliably and fast. Remember, our systems handled $0.25 million in 10 minutes on the first day …
Customer service: MAGFAST is laser-focused on customer service as a key part of building long-term relationships with a large and growing group of supporters. We've devoted a big slice of our time to figuring out how to keep customers happy without draining cash: our team has developed "Intelligent Customer Support" that allows us to keep a big-hearted personal touch while drastically cutting the time it takes to answer every support ticket. Our customer service team is also geographically distributed around the globe to enable around-the-clock support.
Intellectual property: the growing portfolio of patents and trademarks relating to the MAGFAST product range is used by the company under exclusive, royalty-free license from the inventor, Seymour Segnit. According to the terms of the license agreement, title to the licensed materials is automatically assigned to the new controlling entity in the event of a change of control.
The world of charging your mobile devices is about to change! More power, more options, and more convenience along with great design and dedication looks to make the mag fast charger one of the best on the market!
– Peter Sawyer, Google review
Growth Plans
We project significant growth, both through repeat orders from existing customers and the development of new markets. Current and future initiatives include:
a seven-day follow-up campaign shortly after initial inquiry recalls features and benefits for prospects who did not purchase
ongoing communications allow MAGFAST to build its relationship with customers, cover product and production updates, and make special offers
the ongoing release of brand new products featuring snap-to-charge
the release of international variants allowing us to address markets in the EU, UK, Asia and beyond
a strategic initiative to move into an entirely new and exciting sector
a distinctive new form of product referral program
an innovative retail charger and power-bank rental system.
My goodness, what a very special company! By accident one day a couple of months ago, I was intrigued by the ad that Seymour, the owner, had posted on Facebook inviting everyone to a special video about the company having developed a new business and forthcoming product line. So, I took him up on it, and fell in love "head over heels". The products, now in the beginning stage of production, are for sure have never been seen or produced by anybody, or any consumer. An exquisite line of accessories for all of your charging devices. Seymour and his team has asked for early investors so that they can continue producing the very best of its kind, and from what I can see, it's going to happen. Seymour has taken meticulous amounts of time to cover every single detail in the production of each of his items. They have used such imagination, artistry, and creativity, much of which I've never seen in all of my 73 years on this earth …
– John Wright, Google review

1. MAGFAST and the MAGFAST logo are trademarks of Mischievous LLC and are used under license. Apple, Lightning and MFi are trademarks of Apple, Inc. and are used by license under Made for Apple/MFi program. Qi is a trademark of the Wireless Power Consortium and is used under license.

2.Analysts differ in their opinions as to the size of the global markets for MAGFAST's products. We estimate the combined charger and power bank markets to be at least $20bn and probably much larger, noting, for example, that:
– "The latest report by IMARC Group, titled 'Battery Charger Market: Global Industry Trends, Share, Size, Growth, Opportunity and Forecast 2019 – 2024', finds that the global battery charger market reached a value of US$ 18.5 billion in 2018" and "the global battery charger market size is anticipated to reach US$ 29.8 billion by 2024, exhibiting a CAGR of around 8.3 % during 2019 – 2024 … Source: IMARC Group https://www.imarcgroup.com/global-battery-charger-market;
– "The global power bank market size was valued at $17.41 billion in 2019, and is projected to reach $22.34 billion by 2027, registering a CAGR of 3.4% from 2020 to 2027." Source: Allied Market Research https://www.alliedmarketresearch.com/power-bank-market;
– The market for wireless chargers is expected to grow considerably more rapidly: "The Global Wireless Charging Market size is expected to reach $25.6 billion by 2026, rising at a market growth of 28.4% CAGR during the forecast period." https://www.globenewswire.com/news-release/2020/05/15/2034383/0/en/The-Global-Wireless-Charging-Market-size-is-expected-to-reach-25-6-billion-by-2026-rising-at-a-market-growth-of-28-4-CAGR-during-the-forecast-period.html