Can you Use Wireless Headphones on a Plane?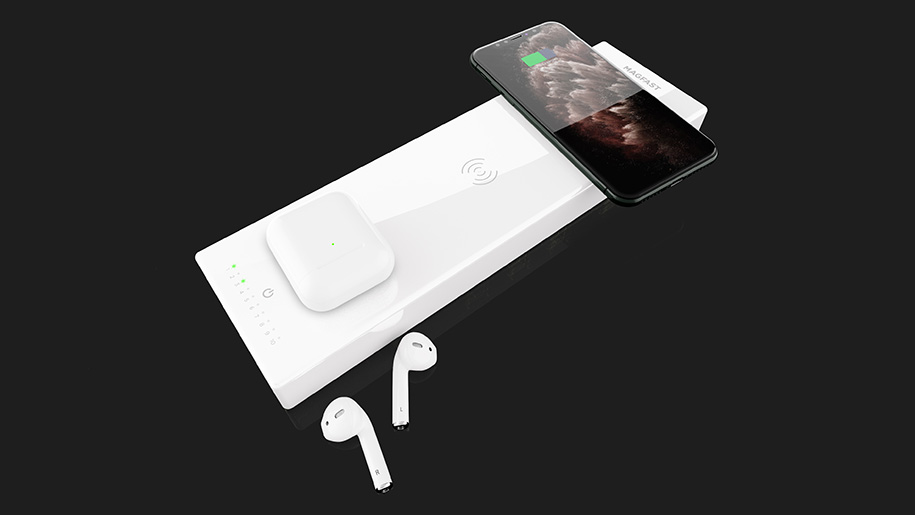 Many people have turned to the convenience and practicality of wireless headphones. No longer tied up with wires, Bluetooth headphones have become more and more popular in recent years.
However, there is one question – can you use wireless headphones on a plane? Airlines have many restrictions in place when it comes to electronics and accessories, including for Bluetooth devices. Below, we investigate whether you can use your wireless headphones on a plane.
Can I use wireless headphones during take-off and landing?
The majority of airlines state that you cannot use wireless headphones while the plane is taking off, landing or taxiing on the runway.
In the same way that airlines ask you to turn your cell phone off or switch it to airplane mode during a flight, they also ask that your Bluetooth devices be turned off. Cell phones send out a radio signal, which could interfere with the important systems of the aircraft.
Bluetooth does not work in the same way as the cellular activity of your phone but it is still sending out a signal to connect, and so it is safest to ensure it is not in use to avoid the danger of any disruption to the plane.
There is also a personal safety element regarding the use of wireless headphones during landing and take-off. It's important that passengers can hear any safety announcements or instructions from the aircrew, especially during take-off and landing, and so headphones should not be used until the plane is cruising and the seatbelt signs have been switched off.
Can I use wireless headphones during the flight?
Most airlines allow the use of wireless headphones during the flight itself. There is a rule that some airlines adhere to that states that no Bluetooth devices that are larger than a phone can be used on the flight at all. However, most headphones and keyboards, which emit a short-range Bluetooth signal, are allowed.
If you are using wireless headphones on a flight, you will need to ensure the device they're connected to is in 'Flight Mode'. This prevents any cellular or Wi-Fi signal from being emitted from the device that could interfere with the aircraft. This will include your phone, tablet or laptop.
Can I use wireless headphones with the in-flight entertainment?
Many airplanes require a headphone jack to connect to the in-flight entertainment system. If you use wireless headphones, you'll need to find a Bluetooth adapter to be able to use them with the in-flight system. This will plug into the headphone port and allow you to connect the headphones to it.
However, some newer planes do now allow you to connect your wireless headphones directly to the in-flight system. Qatar Airways was the first airline to allow passengers to connect their Bluetooth headphones, but United Airlines have also started to fit their new planes with this functionality, as well as retro-fitting some older aircraft with the tech.
It's difficult to know how many airlines will be willing to introduce this to their planes however. There are issues with a large number of people connecting devices via Bluetooth which could cause a challenge. However, as more and more people leave their wired headphones behind in favor of wireless, we're sure to see more airlines adopting this practical solution.
Keep your devices charged while you fly with MAGFAST
If you fly regularly, you'll know how important it is to keep yourself entertained on a flight. Whether you depend on in-flight entertainment or bring your own devices to listen to music, watch films or read an e-book, you'll need to ensure your devices have enough power to keep them, and you, going for the entire flight.
MAGFAST's family of premium chargers has been designed for every part of your life, so they can keep your devices powered on the flight and throughout your entire trip.
Take MAGFAST Extreme for example. A beast of a power bank, this charger has enough juice to keep multiple devices going even on a long-haul flight. Plus, it's sleek enough to fit in your carry-on AND it's safe to fly with.
Or look at MAGFAST Life. Our gorgeous and simple everyday power bank still holds enough juice to keep your devices going for the entire flight. It has multiple ways to get power in and out, including Qi-certified wireless charging and fast USB-cabled charge – perfect when you need an extra boost for your headphones or smartphone.
To find out more about how MAGFAST is changing charging for good, you can watch our demo online. Attendees will be entered into our monthly prize draw to win $1,000 worth of premium tech products!