What Charger Does an iPhone 14 Use?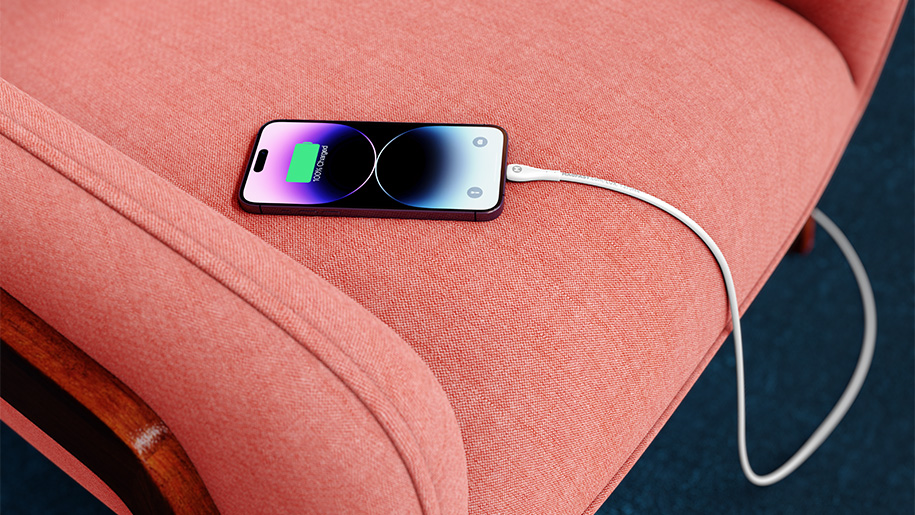 Have you just got the new iPhone 14, iPhone 14 Pro or iPhone 14 Pro Max? The newest model of the iPhone has a lot to offer, such as state-of-the-art safety features, an improved camera, vibrant display and durable hardware.
But all of this is useless if the iPhone 14 doesn't have any power and so you'll need to know how to charge your iPhone 14, the best and fastest way to charge, and how to keep your phone powered up on the go.
Does the iPhone 14 come with a charger?
No – like all new iPhones since the iPhone 12, the iPhone 14 and its variations do not come with a wall adapter for you to charge it.
The iPhone 14 does, however, come with a USB-C to Apple Lightning cable in the box. You can use this cable to plug into a wall adapter you already own, or your PC or laptop, to be able to charge it.
How do you charge an iPhone 14?
Unlike many Android phones, which have switched to USB-C charging, Apple's iPhone 14 still uses Apple Lightning to charge. So, you will need a cable that has an Apple Lightning connector on it, plus a power source.
As we mentioned, the iPhone 14 does come with a USB-C to Apple Lightning cable in the box, which you can use to both charge your iPhone and also transfer data, by plugging it into your PC, Mac, or laptop.
You can also use older USB-A to Lightning cables to charge your iPhone 14. The USB-A connection cannot give as fast a charge as the USB-C cables, but as long as it has an Apple Lightning connection on one end, it will work to power up your new iPhone.
Can you charge an iPhone 14 wirelessly?
Yes, the iPhone 14 does support Qi wireless charging. This means you can easily use any Qi wireless charger to give your iPhone a boost of power without messing around with cables and wires.
What's the fastest way to charge an iPhone 14?
When it comes to cabled charging versus wireless charging, cabled charging will usually always give the fastest charge.
However, not all cables are created equal. USB-A cables will charge your phone, but they use technology that can't offer fast charging. Instead, you will need to use a USB-C to Apple Lightning cable that can deliver fast charging, like MAGFAST Lux. Our USB-C to Lightning cable can deliver both fast charging and super-fast data transfer speeds, and so you'll never be left waiting.
You'll also need to combine your cable with a power source that can support fast charging, such as a wall adapter offering an output above 18W or a power bank with USB Power Delivery (PD). MAGFAST chargers offer Power Delivery, providing a fast charge for your iPhone 14 – with the MAGFAST Lux cable and any MAGFAST power bank, you can get the fastest charge for your iPhone 14.
If you want a fast charge but still want to use wireless charging, you should aim to use a premium wireless charger. Some cheaper, lower-quality wireless chargers won't deliver the most efficient charge. They could waste power, overheat and damage your phone, and so it's best to look for a quality wireless charger, like MAGFAST, to keep your iPhone protected.
How long does it take to charge an iPhone 14?
The iPhone 14 and iPhone 14 Pro can both charge to 50% in 30 minutes when fast charging. The iPhone 14 Pro Max takes a little longer – 35 minutes – to reach 50% battery when fast charging.
Charging to full will take another 45 minutes to an hour or so, depending on the apps you have open and if your phone is being used for anything while it charges.
How long does an iPhone 14 battery last?
Apple states that the iPhone 14 offers the longest battery life of all the iPhones.
All the variations of the iPhone 14 have slightly different battery capacities. The iPhone 14 has a 3,279 mAh battery, the iPhone 14 Pro has a 3,200 mAh battery and the iPhone 14 Pro Max has a 4,323 mAh battery. These all provide various timespans for how long they can last.
According to Apple, the iPhone 14 can offer up to 20 hours video playback, 16 hours of video streaming and 80 hours of audio playback.
The iPhone 14 Pro offers up to 23 hours video playback, 20 hours video streaming and 75 hours of audio playback.
The iPhone 14 Pro Max can offer 29 hours of video playback, up to 25 hours of video streaming and 95 hours of audio playback.
It's estimated that, with a day of 'normal use', every type of iPhone 14 will last through the whole day. However, the more you use it, the more battery will be drained.
Keep your iPhone 14 charged with MAGFAST
As well as MAGFAST Lux, our super strong and durable charging cable that provides fast charging and data transfer, we also have a family of premium chargers designed for every part of your life.
From MAGFAST Extreme, our beast of a power bank, to MAGFAST Life, our sleek everyday power bank, our chargers have multiple ways to get power in and out. This means you can keep your iPhone and all your other devices powered up via USB-C, USB-A, micro-USB, Qi-certified wireless charging, and Apple Lightning.
Find out more about our family of chargers and how MAGFAST is changing charging for good by watching our demo. You'll learn just how much smarter, more durable and more stylish our chargers are compared to your usual chargers…and you'll also be entered into our free monthly prize draw to win $1,000 of premium tech products!