Are There Alternatives for the Apple Pen Charger?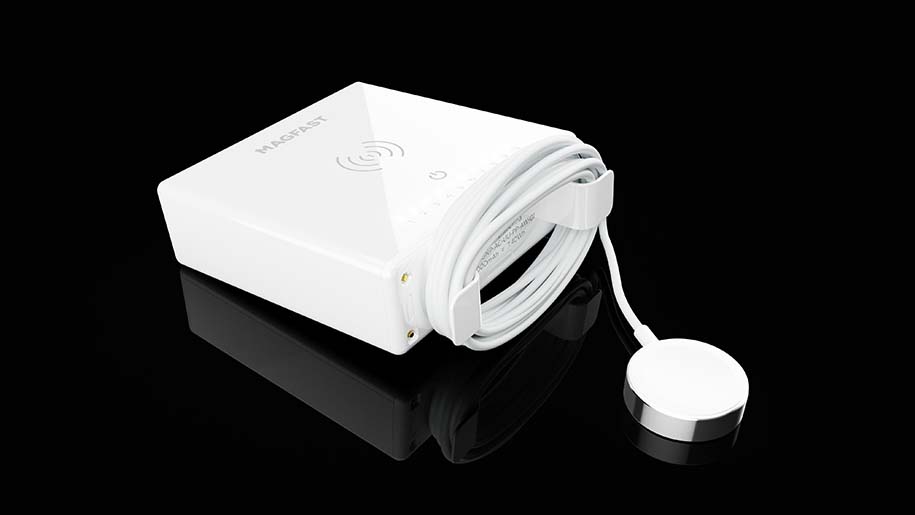 Apple has long been synonymous with revolutionary tech and, just like us at MAGFAST, they have always looked to develop industry leading products in the market. Since the launch of the iPad in 2010, touchscreen technology has been at the forefront of everything. Sometimes though, clumsy fingers mean you just don't get the precision you hoped for. Then, along came the Apple pen, a tool for making accurate use of your touchscreen tech, and the game was changed!
How though, can you keep your Apple pen running to give you and your iPad the most real and interactive experience?
Apple pen chargers
As with all devices, a charger is a vital piece of kit. Without one, you simply don't stay connected and, in today's world, connectivity is everything. That's why we love the MAGFAST Life, our portable, multi functioning power bank with a difference. With the ability to charge both wirelessly and via cables, MAGFAST Life is truly versatile.
Apple still very much relies on its Lightning cable to charge its products. It hasn't always been easy to find the perfect way to charge your array of tech without having to buy multiple products. MAGFAST Life has helped change that with its four ways to get power in and five ways to get power out. Utilising a host of ways to charge means you won't ever end up powerless when you need to get creative.
Types of Apple pen
The speed with which technology evolves means that new, faster and more reliable options are always in development.  Apple has done exactly this with the Apple pen, launching the 1st generation model in 2015 and its successor in 2018. Both fundamentally do the same thing but have a few intricate differences that can be the difference between choosing which Apple pen is best for you.
Apple pen 1st gen
The first gen Apple pen was released in 2015 and was originally something that Steve Jobs had not planned to have join the Apple product range. Since his sad passing though, Apple has developed this accessory and made it a successful addition to the brand.
The 1st gen is charged via the traditional Lightning connector and can provide 12 hours of creative control. Add to this the pixel precision, tilt sensitivity and palm rejection and it is as if you are using an actual pen on paper. Something that has benefitted users of Apple pens is the low latency. This means that, unlike traditional styluses, there is no delay between what you write and its appearance on screen.
Compatibility
iPad 6th, 7th, 8th  & 9th gen
iPad Mini 5th gen
iPad Air 3rd gen
iPad Pro 9.7 inch
iPad Pro 10.5 inch
iPad Pro 12.9 inch 1st & 2nd gen
Choosing the MAGFAST Life to keep you powered up allows you to keep creating thanks to its versatile cables and connectors.
Apple pen 2nd gen
Launched in 2018 and boasting all the features of its older brother, the 2nd generation model changed the game a little more, namely in the way it is charged. Gone was the need to connect it to a Lightning cable. Now you could simply click it via magnets to the iPad Pro itself. Hmm … magnets, now where have we heard that before?
Additional to the wireless charging capability, the 2nd gen pen supports touch gestures meaning you can switch between tools via a simple touch. Perfect for correcting those rarely made mistakes!
Compatibility
iPad Mini 6th gen
iPad Air 4th gen
iPad Pro 11 inch 1st, 2nd & 3rd gen
iPad Pro 12.9 inch 3rd, 4th & 5th gen
As with the 1st gen Apple pen, the MAGFAST Life enables you to remain fully powered up when you want to get creative. Its wireless QI charging capability meaning that you can rest your Apple pen on the wireless charging pad whilst giving a rapid charge to your other devices via the USB-A and USB-C ports.
Still unsure? Why not have a look at the full range of MAGFAST products. All of them boast quick charging and can be magnetically connected to one another to share charge across power banks and devices.
MAGFAST isn't just keeping you connected. It's keeping you ahead. Watch the demo to see how it all works and you may just walk away with $1,000 of Apple and MAGFAST gear.