How to Charge your Apple Watch Without its Charger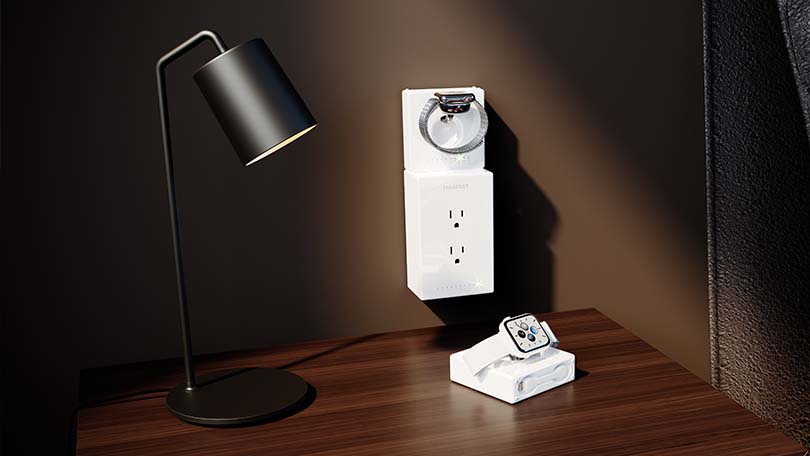 The Apple Watch launched the boom in smartwatches, wearable tech and digital fitness aids. Whatever name you want to give to those types of device, Apple was – and still is – at the forefront. First hitting shelves and online stores in 2015, it became the best-selling wearable device in the world. By the end of 2020, sales figures estimated that more than 100 million people were using them!
Constantly evolving, the Apple Watch was first thought to be a device that would help draw people away from their phones but keep them connected. Whilst the majority of users do tend to stick to their iPhone for calls, apps and streaming, an evolution was happening. The Apple Watch became a go-to device for making payments, monitoring fitness, and listening to music.
How do you charge an Apple Watch?
Like MAGFAST, Apple has always looked to give people innovation and fast ways to get your devices charged, and with the Watch, Apple has again looked to impress its users. With the Apple Watch, in another similarity to MAGFAST, magnets are what help get you going. Where the famous Lightning connection is what got your iPhone, iPad or iPod up to 100%, the Apple Watch benefits from a magnetic pad that you position on the underside of the device. The cable attached to it is then connected either via USB-C or USB-A to a mains adaptor. In addition, Apple can supply a magnetic charging dock that also plugs into an adaptor.
Now, if you are an Apple customer yourself, you will realize that in a bid to reduce both cost and waste (although some Apple detractors may say it is a way for them to make more money), many Apple devices do not come with the adaptor into which you would normally plug your cable. The model of watch bought will also determine what cable you receive. Any edition earlier than the 7 series will require the original Apple Watch magnetic charging cable. Models from the 7 series onwards utilize fast-charging USB-C technology. Do you see where we are going here? Depending on the tech you've bought, you may potentially have a different adaptor for your watch and your phone, and then maybe even another for your laptop or tablet.
But what if you didn't need to build up your own collection of electrical waste, and instead have one device to look after them all?
Too good to be true? Not with MAGFAST Time. The present and the future of charging is here.
The best charger for an Apple Watch
Depending on the series of Apple Watch purchased, you could end up with a variety of adaptors and cables at home to cover your vast array of tech gear. Utilizing the best that MAGFAST Time has to offer means you can say goodbye to excess chargers and hello to just one that does it all. MAGFAST Time allows a fast charge, a super stylish appearance and helps reduce electrical waste!
Charging your Apple Watch via USB-C
The USB-C connection is the way forward for many tech companies and, since the information from Europe says that all new gear over there will have to be USB-C from 2024, it could make its presence felt even more so in the US. With MAGFAST Time, we've got you covered. You can connect your Apple Watch USB-C cable to MAGFAST Time to enjoy a rapid charge.
Wireless charging for Apple Watch
The revolution within the tech world never slows down and wireless charging is seen by many users as a very versatile attribute. At MAGFAST, we couldn't let that opportunity slip away! So, with MAGFAST Time, you can transform a high-tech, futureproof power bank into something even more pioneering. Simply place your Apple Watch on top of the motorized charging platform and a surge of power strong enough to give your Apple Watch enough charge for two weeks will flow! It's neat, compact and so stylish – traits that both Apple and MAGFAST share.
Constructed with Apple's MFi-certified charging coil, this is charging for the Apple Watch today and in the future.
Other uses for MAGFAST Time
So, whilst your Apple Watch enjoys a rapid charge via the motorized platform or via the USB-C connection, your other tech can also benefit! As your watch will only be taking up one of the options – let's say the platform in this instance – you could use any USB-C cable to run from the power bank into any other device. Better still, the built in-cable is totally adaptable. It comes with a USB-C connection but can be swapped out for any other connection type, meaning any device can enjoy a fast boost of power when you are on the move.
Earlier we mentioned magnets. The Apple Watch uses them and we at MAGFAST swear by them – but why? It's because, thanks to the science of magnets, all MAGFAST devices can snap together via an inspired design that allows for a charge to be sent from one to another. With MAGFAST Time, for example, snap on MAGFAST Air and you now have a Qi wireless charging stand – simple!
It is important we consider the implications of electrical waste and how multiple chargers, cables and more can be of huge detriment to the planet. With MAGFAST's bespoke charging system, you can streamline your chargers and reduce the impact on the environment.
How do I charge my Apple Watch power bank?
As we say here at MAGFAST, a power bank with no charge is just like walking around with a brick in your bag. Pretty pointless! So, further expanding on our plan to cut down on electrical waste, we offer a multitude of ways to get power into our gear.
Qi wireless charging
Saving the need for additional cables, simply place MAGFAST Time onto any wireless charger and it will send a powerful pulse of energy into your power bank. This allows you to charge a host of devices whenever and wherever.
Connect to a MAGFAST device
Should you already be enjoying the MAGFAST family of chargers, you will be aware of the incredible snap-to-charge tech we have implemented across our products. Simply snap together any MAGFAST devices and the charge will seamlessly flow between them, allowing you to boost your depleted power bank before you head out again!
USB cables
Like most of us, you probably have a dearth of cables either for current devices or old ones you no longer use. Well, let's put them to good use! Simply connect any USB-C or Micro-USB to MAGFAST Time and plug it into the mains. The surge of energy will top up your power bank allowing for that back-up of power for when you are out and about!
Want to be part of how MAGFAST is changing charging for good? Then check out our free demo where you can see just how keeping your tech charged has never been easier, or more stylish! You might even win $1,000 worth of high-end, high-tech gear! Find out more about us and our tree-planting program today. Be part of something special!