What is the Best Car Charger for iPhone?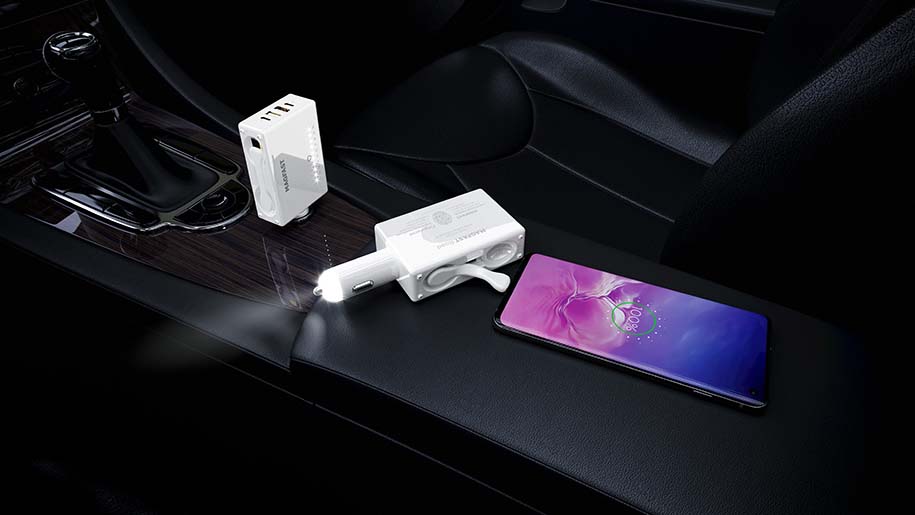 We've all been there: the long drive home, night is closing in. Maybe a blast from Spotify or a hands-free call to family or colleagues will make the journey go quicker but then you see the battery reading less than 10%. Your iPhone is dying …
With all those apps running in the background and your determination to complete that new game, it's little wonder your phone doesn't hold juice for long enough any more!
Maybe it isn't just you though – the kids in the back want to watch TikToks, your wife wants to use Facebook and now, collectively, you're approaching a power outage! What are you going to do?
Well, the MAGFAST team has solved the problem and has got something that keeps all of you connected for that long ride home.
Hit the road
With Apple shipping a staggering 81.5 million handsets in the last quarter of 2021, demand for their new tech is on the rise. However, with these devices comes an increased demand for accessories that keep you powered up. MAGFAST Road is our car phone charger and allows you to keep battery performance at a premium, no matter how long you are travelling for.
Apple has long been known for being a creative force with their iPhones and other devices, which is great, but as many people have noticed, it can come at a cost. With only a Lightning port available on newer models, you had to have a specific charging cable to get your device fully charged. MAGFAST Road relieves you of that concern. Factor in the ability to charge wirelessly thanks to connecting our revolutionary MAGFAST Air and you have a truly versatile charging station.
Charging more than one phone at a time? No problem
Four separate ways of getting power out with MAGFAST Road allow a constant stream of charging power to flow into your devices meaning that nobody is left out as you sit in traffic or make that long drive. Add to this the fact that you can power the charger itself in four ways too, means that not only is the charge it gives versatile but the way you store power in it is too.
Connect MAGFAST Road to any other MAGFAST product to send power between them, plug it into a USB-C or MICRO-USB, or connect it to your cigarette lighter or 12v outlet and you'll have a power bank that rapidly reaches full power that you can then share with the devices owned by all the family.
Stylishly unique
Unlike common power banks, we wanted MAGFAST Road to look sleek and incorporate tech that not only made us stand out but provide people with what they needed – fast. Two colours – the ever present white or the striking forest green that brings a fresh look to the world of portable chargers. Additionally, MAGFAST Road has a vibrant flashlight. There to help you in emergencies with its powerful light, there to help you when battery life is critical, MAGFAST Road is no ordinary charger!
Why MAGFAST chargers?
Being portable is a key asset to all of us. Everything we need is stored within a watch or a phone, a lot of what we watch is on a tablet, and at MAGFAST we appreciate that you want to remain online. That's why our portable device chargers and power banks work hand in hand with each other. Our unique 'snap-to-charge' technology means you can charge multiple devices from a combination of our chargers safely. Then use them fully powered and ready to go, keeping you mobile and connected
Tempted to learn more about the revolutionary way to stay powered up? Enter our free prize draw and find yourself in with a chance to win $1,000 of Apple and MAGFAST products – simply watch our demo to see how easy it is to use any one of our innovative products.
If the chance of these prizes doesn't tempt you, check out the full range of the best portable power banks instead and be part of the future!