What is a MEGA Wireless Charger?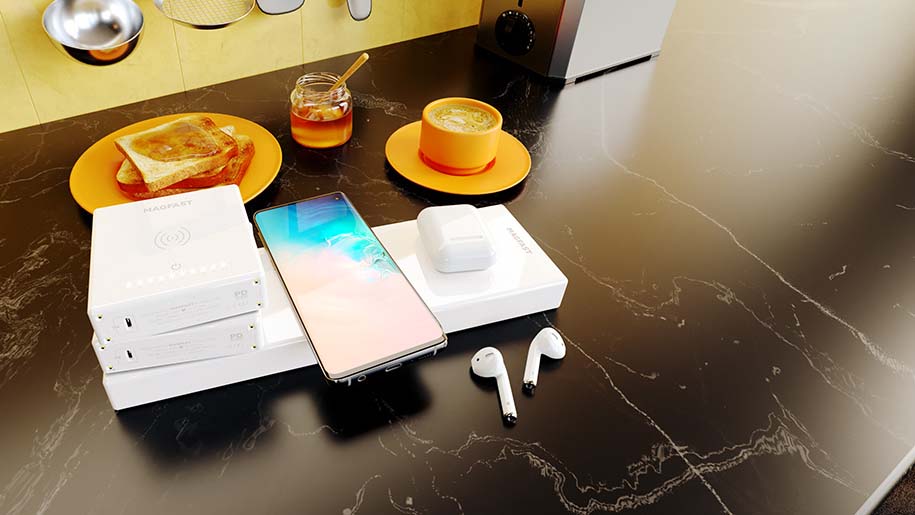 Everywhere you look today, things are being done fast. We all want speed, whether it be download speeds, journey duration, or charging time. Everything is needed now – and not a second later!
When it comes to charging, we at MAGFAST know more than most about how important it is to get things going and our versatile collection of wireless charging devices allow you to charge fast, efficiently, and in style.
With five of our products offering rapid wireless charging, you can stay connected – always!
Sometimes though, with the number of devices we have at home and in the workplace, charging one item isn't enough. That's why we're proud to show off the ultimate in mega wireless chargers.
MAGFAST Extreme – a mega wireless charger
MAGFAST Extreme is the only wireless charger on the market with three Qi wireless charging ports available. Extreme can also jump start your car! That's right, MAGFAST doesn't just get your devices charged, we can get you back on the road too.
The incredible Qi wireless capability isn't the only way to get powered up though. MAGFAST Extreme boasts an incredible six ways to get charged which makes it a mega versatile piece of kit. Our unique 'snap-to-charge' connection means you can pass charge between MAGFAST devices also. And add to this the convenience of the built-in cable that can get all your compatible tech super charged, plus not forgetting the ultra-reliable USB-A, MAGFAST Extreme makes great use of those devices that have been a mainstay of your electronics for years.
Then comes the hardcore powering up of your car! Simply apply our 12v jump cables to the 12v outlet and there will be no need to call the mechanic to come out and get your car running again.
Revolutionary mega charging
We are so proud to be the world leaders in dynamic charging technology. For years, people have depended on a combination of cheap accessories and unreliable products, but MAGFAST is putting an end to that!
Our state-of-the-art charging devices provide mega wireless charging with ease and the capability to combine chargers gives you the power boost you never knew you needed until now!
And whilst this mega charger pumps out a high-quality boost of power to your tech, it holds power for longer too. Simply connect it to either another MAGFAST device or charge via the variety of ports, and your power bank is juiced up and ready to fuel your gear whenever you need it. Discover more about how to make your phone charge faster today.
What is Qi charging?
So now you have read all about our rapid charging and the fact our Extreme charger is mega, you might want to know just how good Qi charging is. Let's put it this way, Qi removes your need for wires and provides a fast charge.
Qi works by creating a magnetic field through two coils. One coil being in the phone or device and the other being within the charger itself. Through these coils, electricity is transferred by air via the magnetic field created and is sent via the charger to the phone.
Providing zero wear and tear due to no wires, totally universal compatibility and safer connections, Qi is the present and the future of charging.
Clutter-free, simple and adaptable, Qi charging gives you power when you need it. Fast.
The MAGFAST family is revolutionizing the way you keep your tech powered; check out the rest of the range today and see how you can stay connected no matter what. Whether it's your Smart Watch, phone, tablet, or gaming device, there's a suitable MAGFAST charger (or charging family) for everyone. Still not convinced? Check out our MAGFAST demo and you might walk away with $1,000 of Apple and MAGFAST gear too!