Where Can I Buy a Power Bank with Flashlight?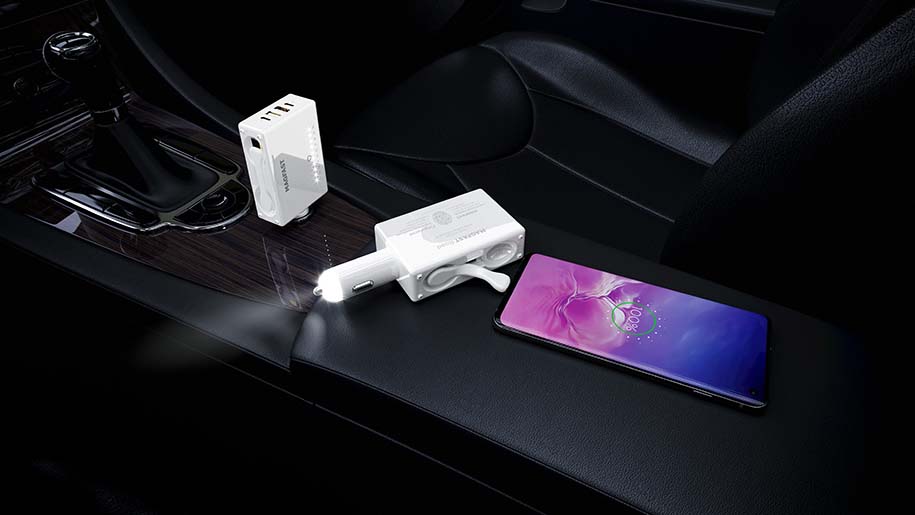 The heavy use we give our tech these days means battery failures always happen at the most unfortunate time.
Let's set the scene – you are driving the family back from a trip out, it's late and dark outside, one of your children is desperate to finish the book they have been reading, the other needs to upload their photos of the day to social media but has 1% battery left.
Can the Supermom or Superdad come to the rescue?
Well, yes….in a way they may not have thought before!
Simply put the MAGFAST Road through its paces and you have two happy kids in the back seat. A power bank with in-built flashlight and 4 ways to put power into your devices. It's the charger you knew you needed but didn't know existed. Until now.
What is MAGFAST Road?
MAGFAST Road is ahead of the curve when it comes to in-car device charging. It has the ability to power up four devices at once and illuminate your way when it gets dark. MAGFAST Road is a power bank that has adapted to the needs of a modern and on-the-go family.
How does MAGFAST Road work?
No matter what you need MAGFAST Road for, its sleek and stylish appearance presents you with a multitude of options. Where standard power banks give you a little juice to top you up, MAGFAST Road gives you the full bottle … meaning longer charge, more use and more value for money.
Charging with MAGFAST Road
Thanks to four USB outlets, you can connect a variety of devices at any one time, distributing the power that Road has stored within, allowing for a quick charge no matter where you are. So, whether it is USB-C or USB-A, your tech stays topped up. Thanks to its 12v input you can charge your power bank at the same time as charging your devices. Or should you want to disconnect it from the cigarette lighter/12v socket, simply plug your items in via the variety of ports wherever you are.
MAGFAST Road also boasts its own in-built cable equipped with a USB-C tip so, when you forget to pack a cable, just plug and play. It's as simple as that! Should it be a different cable you need then that isn't a problem either. You can swap to a Lightning or micro-USB cable in seconds thanks to the adaptable connectivity that all MAGFAST products incorporate.
Should this not be enough ways to charge your gear, MAGFAST has revolutionized charging in another way too. All MAGFAST devices snap together so you can pass charge from one to another and create a dearth of charging capabilities.
Putting power into your MAGFAST Road
We all know that a power bank without power is pretty pointless. So luckily, whatever situation you are in, you can boost your MAGFAST power bank easily.
Simply plug a USB-C cable in and let the power flow in. Don't have one of those? No problem, as the micro-USB cable will do the same job. And it doesn't end there. Like when charging your tech, the MAGFAST devices can charge each other by simply being snapped together.
Also – and this is a huge winner – the 12v socket/cigarette lighter in your car lets you plug the MAGFAST Road in to pump power through the power bank, meaning that, come the journey end, you'll have a fully juiced power bank ready to keep you going for the days ahead.
The power bank with a flashlight
So now we have heard how it charges, how it gets charged and how versatile MAGFAST Road can be, it would be wrong to leave without referencing the point that may have led you here in the first place. The incredible flashlight.
Perfect for under-the-cover reading, ideal for finding your way around, and most importantly a huge help when in emergencies. This ultra-bright LED flashlight can be used when the power bank is disconnected from your car and is ready for use whilst plugged into your 12v socket. You'll always have an ever-ready flashlight to help you in case of roadside breakdowns or dark walks!
Interested in getting your hands on this revolutionary tech? Simply get in touch today! Our team of experts is helping keep people connected by changing charging for good. With our free demo, you can learn just how MAGFAST is the new name in device evolution and at the same time stand a chance to win $1,000 worth of amazing tech. At MAGFAST, it isn't all about the technology though; we are also committed to making the planet a greener place. Every charger ordered means we plant a tree. So far, we have increased the green space on Earth by over 500,000 trees. That's more than 20 times the number in Central Park!