Which iPhones Have Wireless Charging?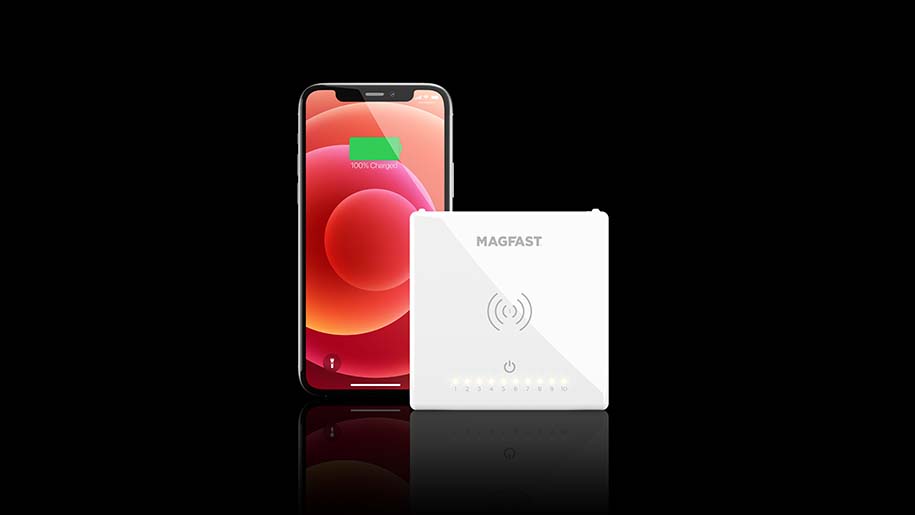 Wireless Qi charging has been around since 2012 and has been incorporated into the work of 488 manufacturers throughout the world including Apple, Sony, Samsung and, of course, MAGFAST. Whilst many mobile phones boast the Qi wireless charging capability, market leaders Apple waited until 2017 to adapt their phones to utilise the revolutionary tech.
Not being able to charge through metal phone bases made of, say, aluminum, it wasn't until the launch of the iPhone 8 with a glass back that the benefits of wireless Qi charging were discovered by Apple users.
Which iPhone can I charge wirelessly?
Requiring a glass back to the phone to make the Qi capability work, it may come as a surprise that Apple – often the leaders in product development – didn't incorporate this until the iPhone 8 series but this may well have been a deliberate decision. There were so many other types of wireless charging technology around that, just maybe, they wanted to assess the market and see what tech they should embrace going forward. Qi dominated and is now incorporated on a vast scale globally.
The table below shows you all the iPhone models that will benefit from Qi wireless charging. You can also find out more about the most popular cell phone, including wireless charging capabilities throughout time, via our comprehensive guide.
iPhone 8 and 8 Plus
iPhone X
iPhone Xs and Xs Max
iPhone XR
iPhone 11
iPhone 11 Pro and Pro Max
iPhone SE (2nd gen)
iPhone 12 and 12 mini
iPhone 13 and 13 mini
iPhone 13 Pro and Pro Max
With it now being incorporated into every model since the iPhone 8, it is safe to assume that it will also be used in future models that Apple decides to release.
Which wireless charger shall I use for my iPhone?
The market is flooded with Qi chargers at present and a quick search of Amazon brings up 617 different products when you hunt for "Qi charger". How, though, do you know which one is THE one among the minefield of charger options?
At MAGFAST, we swear by our Life and Air models, their rapid speed charging – and the ability to connect them to each other means your iPhone will never be short of juice. You can find out more about how to charge your phone faster today.
Utilizing the Qi wireless technology and rocking the most stylish of charger looks, both of these complement any iPhone, in appearance and brand quality too.
MAGFAST Life
A portable power bank that sits in your pocket and packs more punch than a heavyweight boxer, MAGFAST Life is all you need to keep your iPhone running when that crucial 10% indicator flashes on screen.
As with all MAGFAST products, there are multiple ways to charge and get charged in order to give your portable power bank the juice it needs. To charge Life, you can either place it on any Qi wireless charger, plug in a USB-C cable or micro-USB cable, or just snap it on to another MAGFAST device!
So now your power bank is pumped, but what about sharing that charge with your dying phone, tablet, or gaming tech? Easy … boasting five ways to get your devices going, MAGFAST Life is truly versatile.  Use its Qi platform to get a wireless charge into your phone quickly or perhaps utilize the USB-A or USB-C outlets to make good use of those cables you no doubt have laying around the home or workplace. Lost those cables? Then it's no problem either as the built-in cable with USB-C tip allows a rapid plug and play for your items.
Finally, if you have another MAGFAST item, you can pass the charge between them using one as a charger for another! Some call this amazing – we call it the 'magic of magnets'.
MAGFAST Air
Complementing quality with style, Air is the charging stand above all others and allows your iPhone to be charged effortlessly and wirelessly.
Benefitting from the versatility of all MAGFAST products, Air can be combined with all our other products to give you a truly portable charge. Snap it on top of MAGFAST Wall for a Qi charge that takes up no desk space. Alternatively slip a USB cable into the back and the stand can fuel the tech on your desk, allowing you to keep using it as you power it up.
So, if you like your tech ahead of the curve and more versatile than anything you have seen before, have a look at the full range of MAGFAST products and become part of the new way to charge … or see them in action by watching our demo and perhaps walk away with $1,000 of Apple and MAGFAST products!