How Can I Create a Portable Charging Station?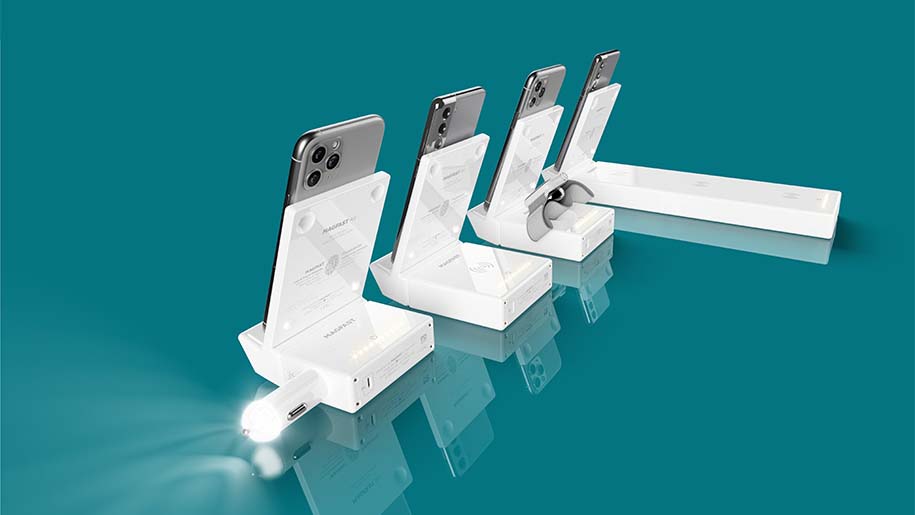 It's likely that you have a whole host of devices that you carry with you day-to-day. Your smartphone, wireless headphones, tablet, e-reader, smartwatch – all these devices will require power to stay charged and ready for use. But how can you keep all your devices charged when you're on the go? For that, you need a portable charging station.
What is a Portable Charging Station?
A portable charging station is a name given to portable device chargers with a high battery capacity that can charge multiple types of devices. With a portable charging station, you can carry around the charger along with your devices and keep everything powered up throughout the day, without needing to plug anything into an outlet.
What To Consider for Your Portable Charging Station
When choosing a portable charging station, you'll need to consider what you'll be using it for and what you will need it to do. If you require a charging station hub for the home, MAGFAST Wall could be the answer. But for every charging station, you should also look at the following features.
Battery Capacity
A portable charging station will require more power than just an average portable power bank. Most average power banks have a battery capacity of around 3,000 – 4,000 mAh, which is enough to fully charge a smartphone once. But with a portable charging station, you'll need it to have enough battery capacity to charge multiple devices.
MAGFAST Extreme has a battery capacity of 18,500 mAh – plenty of power to keep all your devices charged throughout the day! It can be the perfect addition to your portable charging station, with the ability to keep your phone, headphones, and tablet topped up and ready for use all day. With different charging ports for different tech, it's never been easier to keep everything going!
Compatibility
Your portable charging station should have the capability to charge multiple types of device, with multiple ways to get power out. This way, you'll know you only need to take your portable charging station with you to keep all your devices charged.
All MAGFAST chargers have multiple ways to get power out, including USB-A, USB-C, micro-USB, Apple Lightning, and Qi wireless charging. With MAGFAST Extreme, you can charge multiple devices at once, with not one but three Qi wireless charging zones, plus ports for cabled charging.
Reliability
When you're relying on a portable charging station to charge all your devices, you need it to be reliable. Cheaper charging stations may have a shorter lifespan or may not be able to withstand the knocks and bumps that come with being transported in a bag or briefcase all day.
However, MAGFAST's premium devices have been rigorously tested to ensure they're ready for daily life, including travel and high use. We only use premium components and build to a high specification to ensure all our devices can be fully relied on. We're so confident in them, that we offer MAGFAST Care – a three-year warranty as standard across all our products.
Portability
A portable charging station is no use if you can't take it with you. Many portable power banks are very large and bulky and are inconvenient and unsuitable for everyday use. If you want a portable charging station that can charge all your devices and also seamlessly fit into your backpack, you'll need a sleek and streamlined charging station.
All MAGFAST devices are designed to be portable and for everyday use. They're sleek and lightweight, so can easily fit into your purse or backpack as you go about your day. Even MAGFAST Extreme, our beast of a portable charger, is sleek enough to be carried all day.
Create Your Bespoke Portable Charging Station with MAGFAST
With MAGFAST's family of premium chargers, you can create your very own, bespoke charging station. With MAGFAST Extreme as a base, you can add any other MAGFAST portable charger, like MAGFAST Air, our portable wireless charging stand; MAGFAST Time, specifically designed for Apple Watches; or MAGFAST Life, our everyday portable charger.
All MAGFAST devices are fully integrated with each other. Our unique 'snap-to-charge' technology uses magnets to effortlessly snap the devices together to charge with a safe, low voltage connection. So, you can pick which MAGFAST products you need to power your devices and put them together to create your own portable charging station.
Learn more about our premium charging devices and discover MAGFAST today.
MAGFAST Lux is now
America's highest-rated smart phone cable ...
4.9 out of 5
It's
gorgeous fast-charging luxurious kink-free premium feel
Retail:
$37
.00
... but you can get one for FREE!
Get my first Lux FREE